This Friday is the March Pub Run, sponsored by FLRTC, and led by me.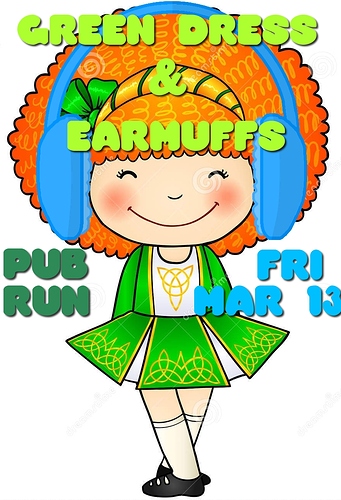 This month's theme is inspired by National Earmuffs Day on March 13, as well as St. Patrick's Day upcoming. All are encouraged to wear green dresses (or at least green clothing/ accessories) and some earmuffs!
For those of you who would like to get in a bit more running, and leave your vehicle near the Commons, we'll meet in front of the ROTHSCHILD BUILDING (between Sammy's and Home Green Home, near the running store's old location) on the Commons at 6:30pm. We'll then run over to the store as a group, with the OFFICIAL START TIME of 7PM AT THE STORE. We will end the run near the Commons as well.
There is no registration for our pub runs. Just show up and be ready to have fun.
EVERYONE is welcome, must be 21!
Remember to bring ID and some CASH (as some bars are cash-only).
For those of you who have never taken part in our pub runs, we generally run about 2-4mi total between 3-4 bars, with drink stops at each. Our group will gather as a full group at the FLRTC store at 7pm, and depart from there to our first bar. Per usual with our group runs, we have a NO RUNNER LEFT BEHIND policy.