The FLRC Challenge is back for 2022, with new courses, new competitions, and new swag! Your mission, if you want to play this huge community game with hundreds of other local runners, is to complete all ten courses between April 16th and August 14th. Register now!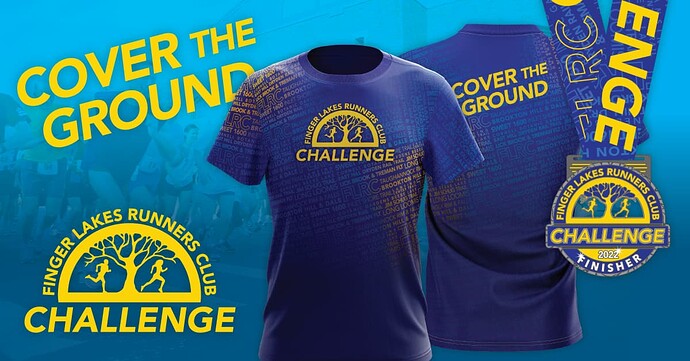 Everyone who runs, walks, or hikes all ten courses at least once in those four months will win an all-new FLRC Challenge medal. This is a true accomplishment—only about half of last year's participants claimed their medals in the end. Don't be intimidated, though. The Challenge is more about personal grit than running prowess, and there is absolutely no shame in hiking a course that's longer or hillier than you want to tackle at a run. (Says the guy who hiked Pseudo Skunk Cabbage last year due to injury.)
Like last year, we've designed ten courses from 1 mile to the half marathon, but this year, along with road and trail, we're including track and cross country. We've worked to spread courses out around even more of our lovely area, ranging from the trails of Taughannock and Treman State Parks to the roads of Brooktondale and the fields of Lansing. (And a lot in between!) The addition of the Sweet 1600 track event means you can keep notching Challenge efforts even while you're traveling. Many of this year's courses start and finish where you and your friends can get a bite to eat afterward—we've provided suggestions.
The FLRC Challenge leaderboard will once again record your runs and let you see what all your friends have done, with all of 2021's competitions returning: fastest times, best average times, most miles, and age-group teams. We'll see if the Thundering 30s can defend their team title this year! And yes, we'll have discussions in the FLRC Challenge forum, along with regular recaps to shine a light on everyone's achievements.
To encourage more social running, we're adding the concept of "community stars." Run with a friend or a group, post a picture or report, or support a local business as part of your run, and you'll earn community stars, with prizes to the top ten socialistas. (Neither "socialites" nor "socialists" sounded right.) Also new for 2022 are monthly bragging rights competitions for those who want to focus on a particular month, even if they can't compete across all four months due to travel or injury.
Overall prize winners will again receive gift certificates to the Finger Lakes Running Company, with the amounts proportional to the number of Challenge participants—38 people shared nearly $2,000 last year. Notch the most efforts on any one course, and you'll also take that course's sign home at the end!
For you ultramarathoners, the FLRC 100K Ultra Challenge is back too. Run all ten courses in 24 hours, and you'll win an FLRC Challenge course sign, customized to commemorate your impressive achievement. Last year, ten people basked in the glory of completing the Ultra Challenge—will you be one of them this year?
We're less than two weeks from opening, so register soon! On April 16th, we'll kick things off with a group run at 8:30 AM at the Cornell Botanic Gardens to check out the new Beebe Lake course. We'll be hosting other group runs on FLRC Challenge courses throughout the summer, and we'll cap off the year with an award ceremony at the FLRC annual picnic on August 25th.
Challenge yourself to run with us!