Thanksgiving is fast approaching, and what better way to start the holiday than by running FLRC's low-key Turkey Trot with friends and family! Silly hats optional.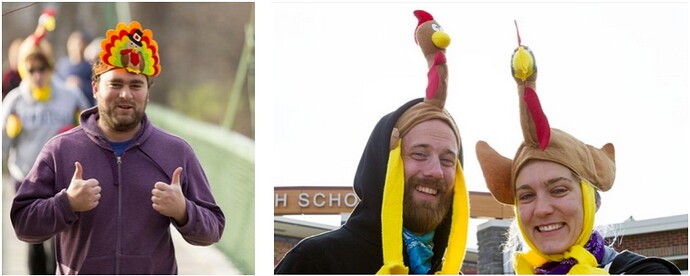 Predict how long it will take you to run/jog/walk/crawl 5.5 miles (or any distance you desire) and once you're done, enjoy baked goods donated by Ithaca Bakery, apples courtesy of Cornell Orchards, and apple cider provided by FLRC. The people with the five closest predictions win a pie from Purity Ice Cream for their Thanksgiving dinner table.
Remember that the Turkey Trot raises money for Loaves & Fishes so they can help feed the less fortunate in our community. Stash some cash in your running gear and drop it in a bucket when you arrive. The suggested donation is $10, but whatever you can afford is appreciated!.
No pre-registration is necessary—you'll fill out your prediction when you arrive. Please show up at the Ithaca High School cafeteria between 8:00–8:30 AM for the 9:00 AM start, and wear a mask whenever you're inside. Since only 50 people will be allowed in the cafeteria at any one time, be prepared to spend time outside.
Gobble gobble!
Bruce Roebal, Director
Ithaca Turkey Trot