Pete Kresock is back, notching a whopping five efforts on the Danby Down & Dirty course yesterday to seize the lead from Bob Walters in Most Miles, but Bob's not giving up easily, running Black Diamond Trail today to move into a tie at 534.7 miles. Mickie Sanders-Jauquet is in third, just about to break the 500-mile mark as well.
It's been a high-mileage week overall, thanks to a lot of Forest Frolics last Saturday. As a group, we've blown through the 11,000-mile mark to hit 11,300 cumulative miles across 1,053 total runs. Impressive!
At least 12 @Challengers ran the in-person Forest Frolic 15K race, and congratulations to 15-year-old Crosby Woods, who was second overall, just missing the win by 1 second in 1:07:34 and knocking over 7 minutes off his previous course-leading time. (Rich Heffron was leading the race but ended up copping only the "Long Strange Trip" award for his several-mile detour past the rock pile.) Dave Kania and Aaron King finished together as well with Dave 1.5 seconds ahead in 1:15:30, which moves him into second place and Aaron into third on the Frolic course. Margaret Frank took almost 5 minutes off her previous first-place time in 1:18:09 and Liz Hartman dropped her time by almost 7 minutes in 1:25:49. Thanks to Benedetta Carnaghi, Liz Hartman, and Kristina Harrison-Savage (back from her broken foot—Liz and Kristina pictured below) for photos from the race—please share any others you may have!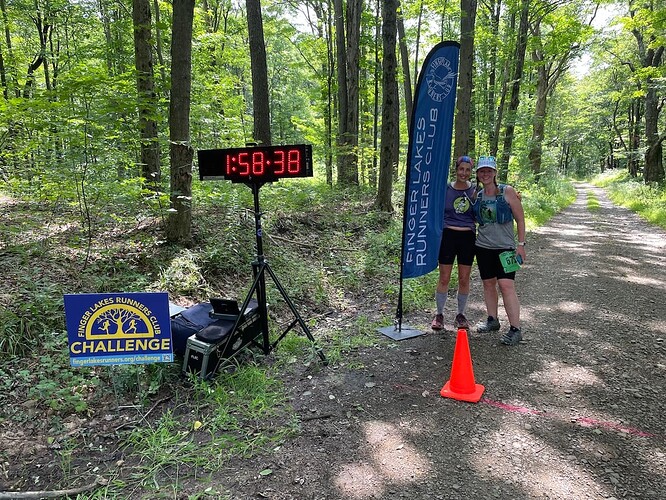 Finally, those who have run the Cornell Botanic Gardens course recently may have noticed that they're building a new gate on the Caldwell Road entrance. That reminded me that I'd like to thank the Cornell Botanic Gardens and Emily Faye Detrick in particular for letting us host our FLRC Challenge course and sign in the F. R. Newman Arboretum. It's extremely unusual for organizations to be allowed to post signs there, and we're grateful for their cooperation. If you regularly run on Botanic Gardens trails and are so inclined, you could return the favor by becoming a member or making a gift to the Botanic Gardens. The vast majority of their budget comes from outside donors, not the University, and they really can use our support.