What a week, @Challengers! The FLRC Challenge has been huge fun all year, but this final week has had more excitement and drama than anyone could have expected. We capped it off with our New Year's Eve headlamp run on the Waterfront Trail in unseasonably warm weather—it was only a two-dog night. (Sam

and Blaze

)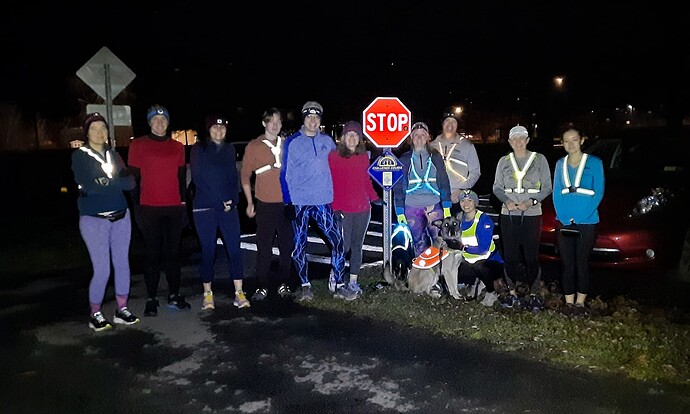 In the Most Miles competition, Bob Walters had led for a long time, only to be overtaken by Karen Ingall and Pete Kresock when he was lured away to run the Honolulu Marathon. Karen and Pete traded the lead a few times, but because the leaderboard makes it easy to see what everyone's doing, they could keep responding to each other's efforts. We went into December 30th with Karen up by about 55 miles, but Pete wanted to do another 100K Ultra Challenge that day, and by the time he finished early on December 31st, he was in the lead by 9.2 miles. Karen responded by running Cornell Botanic Gardens three times and East Hill Rec Way twice to produce an exact tie at 1345.3 miles, so I'm declaring them equal winners. Way to go, you two!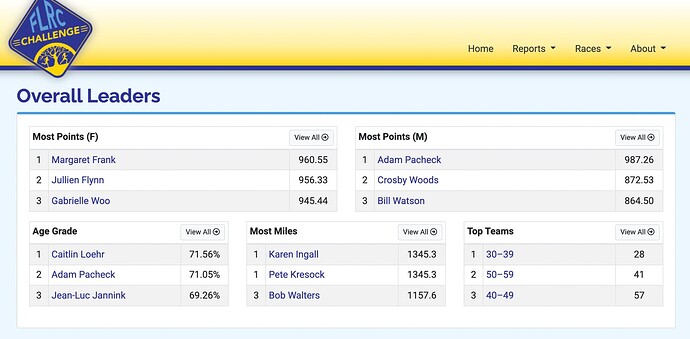 About three weeks ago, it became clear that the @Fabulous-50s trailed the @Thundering-30s by just a couple of points in the team competition that hadn't gotten much attention all year. After I rallied the 50-year-olds to the cause, the @Fabulous-50s even took the lead. But the @Thundering-30s weren't going to let us just walk off with the bragging rights and team prizes. Liz Hartman and Pete Kresock pored over the leaderboard to identify the courses where the @Fabulous-50s were vulnerable (which is exactly what I'd been doing to see where the @Thundering-30s didn't have a solid lead) and then they and Amanda King and Aaron King and others systematically crushed us with numerous runs on the contested courses. Even then, the @Fabulous-50s might have had a chance but for Margaret Frank, who ran super-fast times on five courses in the last five days, radically improving the team age grade scores. Wait 'til next year!
Speaking of Margaret, her times weren't just sufficient to ensure a win for the @Thundering-30s, they were good enough to catapult her into the lead in Most Points ahead of long-time leader Jullien Flynn, who had moved away from Ithaca in July and couldn't respond. On December 30th, Margaret moved into second overall, thanks to a fourth on East Hill Rec Way, a second on South Hill Rec Way, a second on Black Diamond Trail, and a first on Pseudo Skunk Cabbage. But then, on December 31st, Margaret ran a time that put her in third on Cornell Botanic Gardens, and Gabrielle Woo set a new Pseudo Skunk Cabbage PR by 8 minutes to push Margaret into second and Jullien further down into third. With those final day efforts, Margaret ended up with 960.55 points to Jullien's 956.33 and Gabrielle's 945.44.
Thirteen people finished their final courses this week and qualified for their medal. Congratulations to Nathan Korson, Sooyoung Vandemark, Yinghua Wang, Sarah Ridenour, Aaron Hicks, Margaret Frank, Nichole Cappadora, Rebecca Lambert, Mikhail Kern, Iris Packman, James E Hodges, Dina Maxwell, and Matt Bishop! That brings us to a final total of 87 completions out of 164 people who ran at last one course, a completion rate of 53%.
On a statistics note, we ended the year with 4560 total runs and 21,724 miles. I keep trying to come up with a clever comparison to give a sense of how far that is but haven't had any luck. Suggestions welcome! I'm planning to share more stats as well, such as the fact that women ran two of our ten courses more than men: Cornell Botanic Gardens and Thom B. I also believe we ran every day since the start on February 21st—that's a heck of a streak. If you have suggestions for stats to tease out, send them along. For instance, I know @Jamie has been paying attention to who has completed the Challenge multiple times—there are some amazing achievements there, and I'll be sure to pull those out.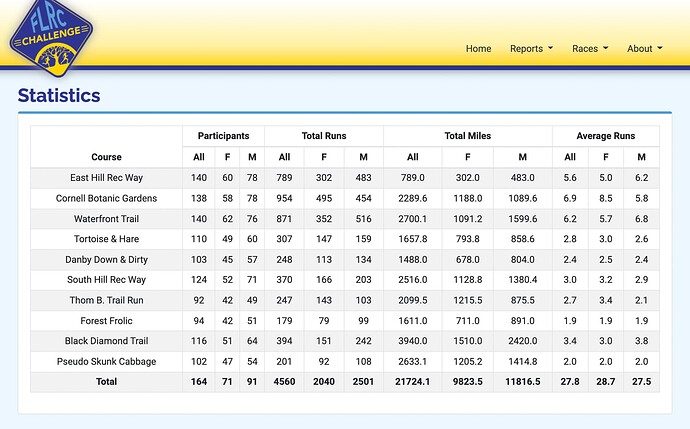 Stay tuned for more wrap-up posts as I figure out the prizes (and there are lots!), pore over the survey responses (still open if you haven't filled it out), and start sharing ideas for making the FLRC Challenge even more fun next year (I'm thinking about an April-to-August timeframe, so we can all take a break for a few months and then come back refreshed and ready for new courses and new competitions, finishing up in time to use FLRC's annual picnic as an in-person awards ceremony.).
Until then, thanks to everyone who played along in this huge community game! It was more fun than I could have imagined, and I'm utterly pleased that it has helped so many of you run more, push yourself to new feats, explore some of our favorite routes, meet new friends, and obsessively reload an Internet stats site that's entirely positive.
Happy New Year, and see you in 2022!