I can ride or drive if need be. Bob W 607/229-2737
I can drive, but would prefer to be a passenger
I could drive but would rather be picked up from downtown
Would rather not stop for crepes (could stop somewhere else, just I am vegan)
My cell is 480-246-9749
Would love to meet downtown- great to be a passenger but certainly can drive. Marie Fitzsimmons- Super vets
Marie Fitzsimmons- 607-262-2201
I can drive or ride. My number is 515-707-5266.
I need to be a passenger. I will be in the B lot. My phone # 657-282-7509
@amalia - I called the restaurant to ask about the vegan options. I learned that their gluten free/buckwheat crepes are vegan. I have eaten these many times, and they seem good to me. I also learned that they direct vegans to the Vegetarian Scramble Crepe. You can ask to have any of the default ingredients (such as scrambled eggs) disincluded. You can also add avocado, tofu, or impossible sausage. He said that the impossible sausage is vegan. He also said that the crispy red potatoes, which come with this dish (or as a separate menu item), are vegan except that the fryer is also used for meat. So, you could ask that they not be included, or be included in a separate dish and then give them to a friend to eat. (You can see this menu choice on the screenshot included here, with buckwheat crepe at the top and the Vegetarian Scramble option at the bottom.) If it is after 2pm, you have to ask for the AM menu, but they are cool with that.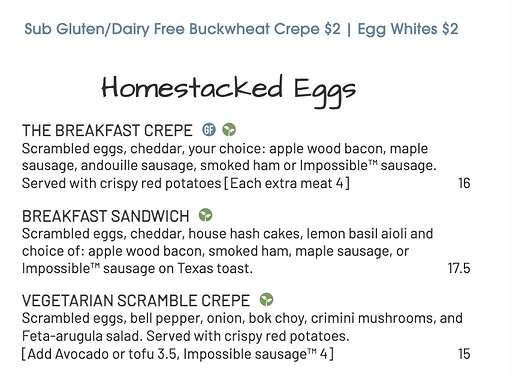 You can also have the Simply Salad with strawberries made without cheese, and there is a fruit bowl option. So, it's not a huge range of options, but it's not impossible to have a meal. This is on the PM menu, but if it is before 2pm, you can ask for this menu.
After I hung up, I realized that he might have said that any of the salads could have their meat/cheese disincluded, but I'm not sure (see screenshot of menu below)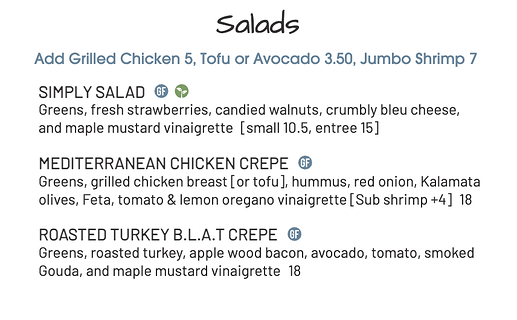 I would prefer a ride from downtown, if possible. Happy to stop for crepes, if that works for whomever I'm riding with.
If it looks like we may be low on vehicles, I can drive, but it means leaving my spouse without a car all day.
Jesse
Wow you really did the legwork to find out about that!! Thanks! If other people in the carpool are stopping im happy to.
I can drive. See you at 6:45. Ouch!
In case anyone is wondering, Adam and I are working on sorting out a few specifics for the carpool tomorrow. If you are looking for a ride from downtown (Marie, Amalia, Jesse), we will be in touch about details later today.
Also, if anyone needs to text us directly or needs to get in touch tomorrow morning:
Tonya - 607-275-8383
Adam - 607-275-9557
I will meet the carpool in B lot at 6:45. I'm in for stopping for crepes on the way home
I can drive and pickup three others from downtown if that works.
I cannot stop for lunch.
Bob
315.729.7603
Thanks for all the figuring!!! Greatly appreciated!
Marie
607-262-2201
Here's a look at the carpooling for Sunday morning. We have rides for everyone who indicated that they could not drive.
@mdoruska3, @Kushal_Kumar_Reddy, @HectorMarie, and @amalia, you should have a text message from me that each of you are on, so you can coordinate a carpool with Molly driving.
@CharlieF and @cfranck, we need one of you to drive for sure, so you can pick up Jorge. We might need both of you, and we'll decide tomorrow at the B-lot.
@Bwalters, Adam and I think it is climate friendly that you have a Tesla, so you should drive.
@Dave_K and @jeanluc, we may need you to drive, and who drives may depend on who wants to more, or if you'd rather be in a Tesla.
@Swizbob is still sorting out his plan, but both choices I've been texting with him about look good.
If I didn't mention your name and you've written into this thread to say that you are coming to the B-lot, you are a passenger.
See you at 6:45 at the B-lot and/or see you at the race!
Sorry for the delay. I can drive tomorrow but will prefer to be a passenger. I can get to the B lot and stop for crepes after the race.
-Joe
787-949-8230
Sorry for the late actual reply - I'd love to join a carpool as a passenger if there's still room. See y'all at the B lot at 6:45. Phone # is 501-413-8392.
-Hannah
Yes, there will be room for Hannah. cheers, -Tonya