Story
Lovely morning for a trail jog/hike. Weather was amazing and I saw lots of wild geraniums, northern starflowers, and a new to me flower (fringed polygala, ooh la la). Must have pulled a calf muscle at Thom B last weekend (blerg) so I walked the uphills. That gave me more time to enjoy the flowers and birdsong. The woods are glorious this time of year.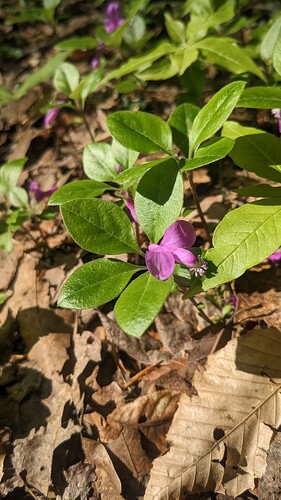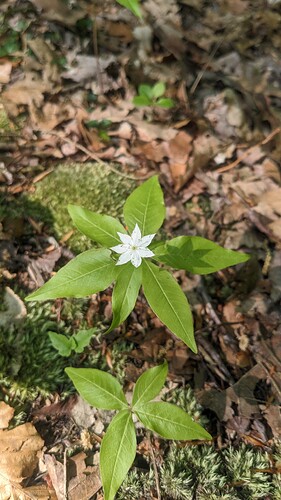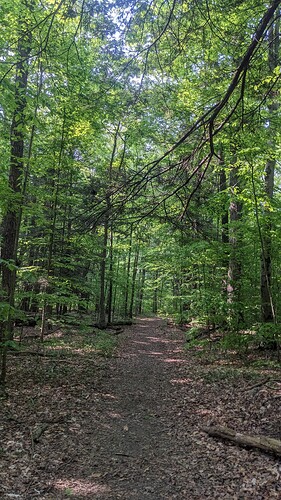 We must have just missed each other. It was a gorgeous morning to run it!
I think I saw you passing the kiosk just as I was arriving! yes, perfect day for it.
Story
@DamianClemons is working on the ultra challenge today so the girls and I got in the car to go cheer him on! We met him in the parking lot where he was taking a moment to regroup, reapply sunscreen, hydrate, etc. He took off and the girls and I slowly followed with a nice hike. When we reached the kiosk, there he was waiting for us. He didn't feel comfortable leaving us in the woods without cell service. I can't imagine why, I'm impeccable with navigating trails.

We then all went for ice cream and he continued on his quest. I'm so glad we could meet up with him.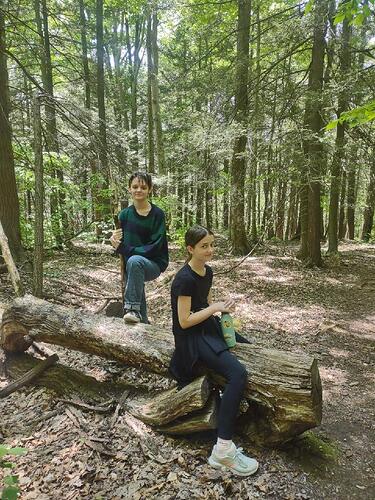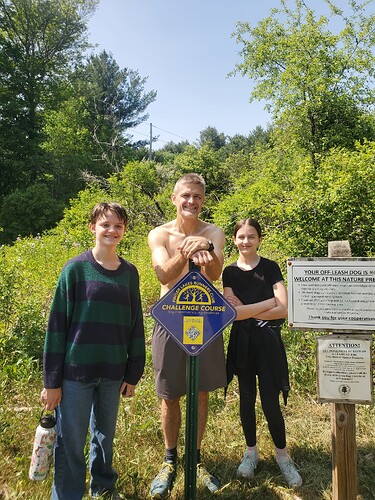 Story
First run of the FLRC Challenge and first trail run of the season! Ryan and I spotted two snakes on the trail and Ryan experienced his first water crossings.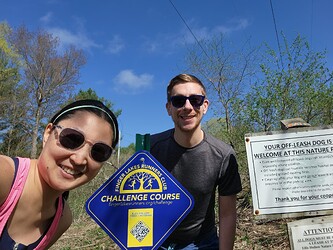 Story
I stopped by Ellis Hollow today to get in a fast effort. I started with a slow run-through to warm up, then turned around to do it again hard. Here's my Strava entry.
I find it difficult to run fast on the more technical trail courses because I can't maintain an even effort all the way through. It's difficult to get up to speed on the downhill sections because of all the rocks, roots, and sharp turns, so I tried to push the flat parts and uphills. In retrospect I could have attacked the first mile a lot harder because I was able to recover on the switchbacks in the second loop.
Story
I am not a morning runner, and I am very much not a heat runner. Running first thing today was the lesser of the weevils (Patrick O'Brian sea captain books reference). I managed to get out on the course happily caffeinated and with tunes in one ear by 8:30. I had a reasonably good run and jumped in my pond immediately afterward to cool down.
I saw @SteveShaum and @Bwalters on the course.
Story
This morning I decided to knock off two courses. Ellis & Lime Hollows
In retrospect, prolly not the best day for it with all the wildfire smoke in the air.
I didn't realize how bad it would be. And by bad, I mean the thickness of the smoky haze. It didn't actually affect my breathing that I noticed. I could smell the smoke, but thankfully it wasn't causing any discomfort. (That isn't to say there Wasn't an effect, I just didn't notice one)
Anywho,


This was a fun little trail, a good little intro to trail running.
Didn't really have any stream crossings, more like small patch of mud and maybe a puddle or two



we need some Rain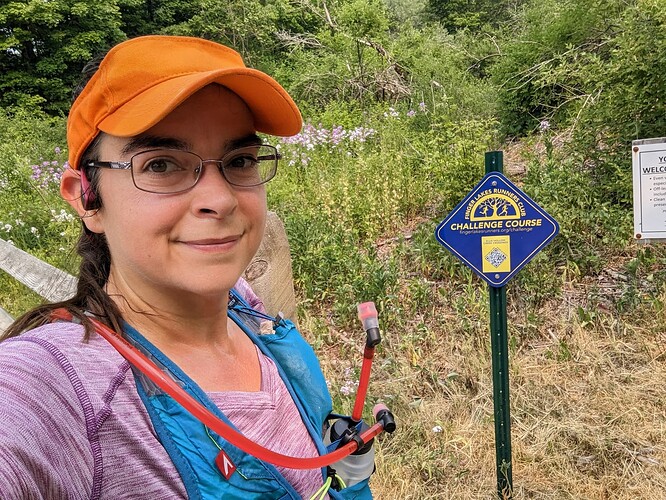 @tonya @adamengst Since it's your home course - Is this likely to be super soggy after the rain today? (Looking for something easy to do before Twilight instead of the workout!)
No, the streams may have some water, but apart from the first 100m after the parking lot and one other spot I can think of (top of the first hill on the red trail), it should be pretty hard-packed still.
Story
Well Challengers, I am injured and taking time off from running to heal and recover. I'm pretty bummed because I had only 3 courses left. I have requested and been approved to complete the Challenge with modifications, so I will get it done!
Today I hit Ellis Hollow Creek Crossings for its beauty and shorter distance. I was surprised how dry the creeks were after the rain last night. The trails were dry too; I did see evidence of run off in a few places.
Story
Thanks to @adamengst 's tip, I headed to Ellis Hollow this afternoon to knock off my first trail challenge course. I like the track and the roads a lot more than trails but what the challenge requires, I will do! Unlike last year's trail courses, I had zero falls on this attempt, but I made a couple of wrong turns and had to retrace my steps; my watch showed 2.6 at the end of the course. This is a beautiful place - it reminds me of the Danby Down & Dirty course but it's a lot less steep. I would come back here if I was in the area for sure.
Story
Feeling Trail Run Strong after yesterday's Blueberry Patch jaunt I decided to fit the Ellis Hollow Crossing course into my planned bike ride today. I even managed to coerce my husband to join.
It was a beautiful, hot day, but holy hills, batman ! I walked all those red trail inclines lest I lay down in one of the many stream crossings to reevaluate my choices.
When we emerged we met a woman who congratulated our efforts, which was lovely and definitely put smiled back on our tired faces.
Happy trails !
Bonus points for photos of runners relaxing in the stream!
Story
Decided on a quick evening hike with Matt and our dog to knock another course off his list. Lovely evening for a hike. And still, shockingly not buggy on the trail.



Plenty of toadies though

maybe that is why it wasn't buggy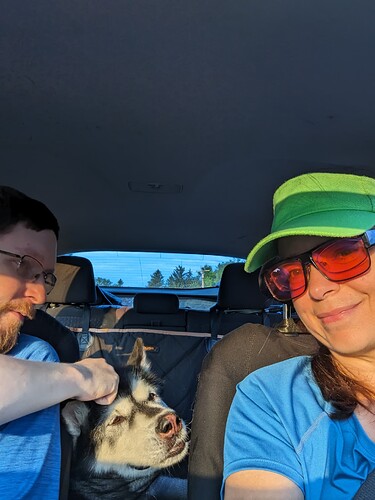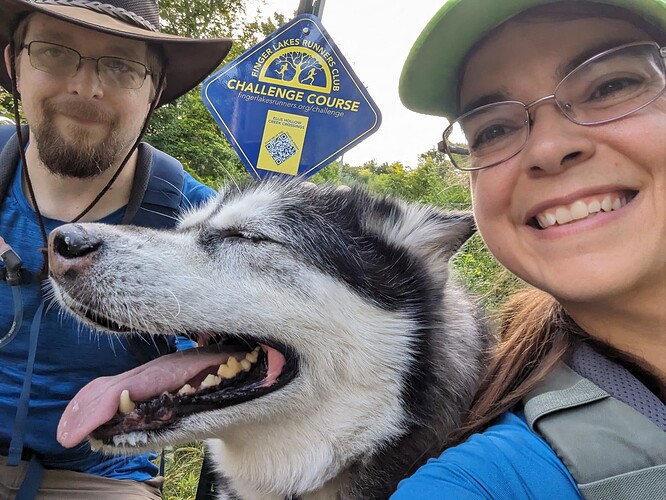 I was just checking the FLRC Challenge board under my profile and both my Ellis hollow efforts are missing

they recorded in my webscorer app


Is there anything I need to do, to update the website?
Anyone else having this issue?
I know I have terrible service at this trail head, could that be the problem?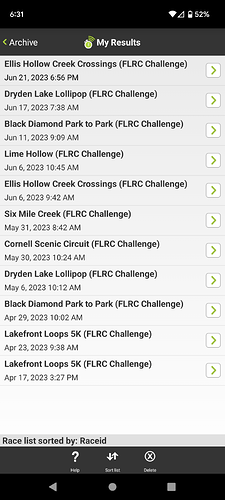 Here's info from the FLRC Challenge webpage:
Run not appearing on the leaderboard? You ran a course—likely one of the more far-flung ones—and scanned the sign correctly, but it's not appearing on the leaderboard. The reason is that Webscorer wasn't able to contact its servers to post the result at the time due to weak connectivity. The solution is easy—you can repost from the Webscorer app. Navigate to Home > Race Archive > My Results > Race Name > Post My Results. If you ran a course multiple times, make sure you're selecting the right one. Check your activity log for that course afterward to make sure it came through.