Last year, 111 local runners filled out our 2021 Runner Survey, which we designed to help us get to know you better as a group, improve our races and other events, and provide you a chance to give feedback. To state the obvious, since this was a self-selected survey, it reflects only the demographics and opinions of those who chose to participate. And who are clearly above average!
Before we get into the questions whose answers you're dying to learn (favorite bagel flavor), we wanted to set the stage by giving you a sense of who responded to the survey.
From a demographic basis (next three charts), respondents were fairly evenly distributed by age, with a slight skewing toward the younger decades. With Ithaca being a highly transient community, it's unsurprising that so many people have lived in the area for less than 10 years. But wherever you lived, you've been logging the miles—most people have quite a few years of running under their belts.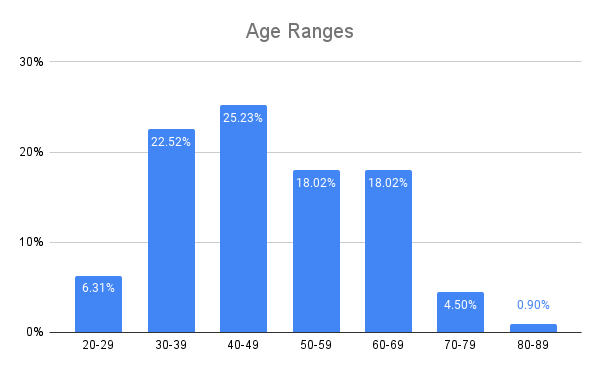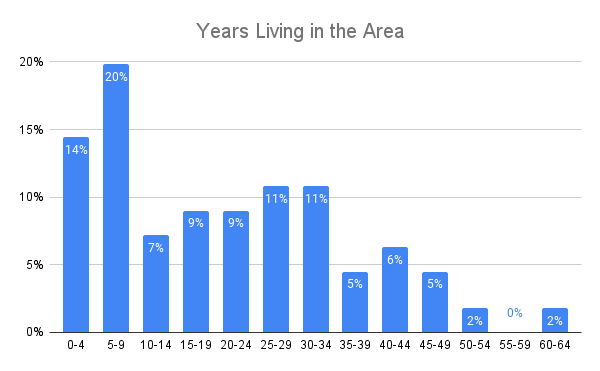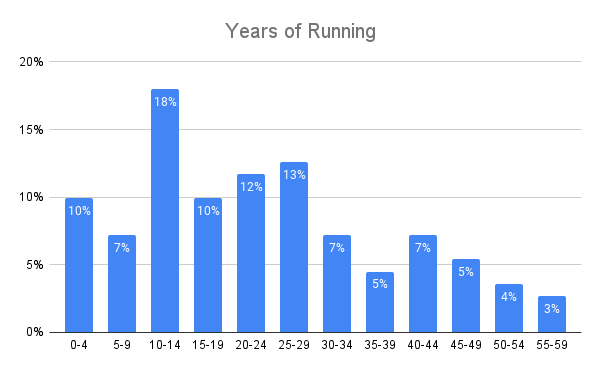 Next, we asked why you run. Nearly everyone does it for physical and mental health (though we're curious who didn't choose that), with fitness close behind. Companionship was also a significant driver, but lots of people clearly enjoy running by themselves. And over a third of you like the competitive aspect of running.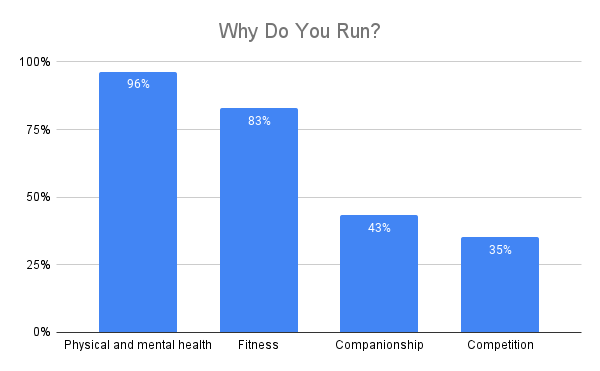 When it comes to racing, common distances came out on top, with the 10K and half marathon in the lead, followed by a pack of the 5K, 10 mile, and 5 mile. After that, we're apparently into boutique distances on both ends of the spectrum. We'll keep the sprints around for kids.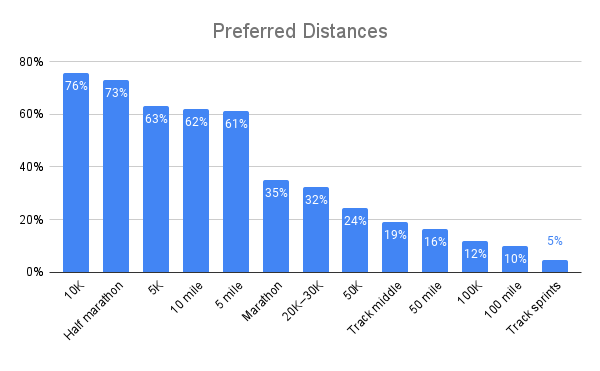 Regardless of distance, races aren't all about competition. Nearly three-quarters of respondents said that races made them feel part of the local running community, followed by the FLRC Forum, which has been especially helpful in recent socially distanced times. The FLRC Challenge, by bringing people together in space, if not necessarily in time, also played a major role, and our group runs did as well. Our FLRC and High Noon teams in the Pete Glavin Upstate New York Cross Country series (PGXC) and more formal training workouts were further back, with social media and our monthly Footnotes newsletter bringing up the rear.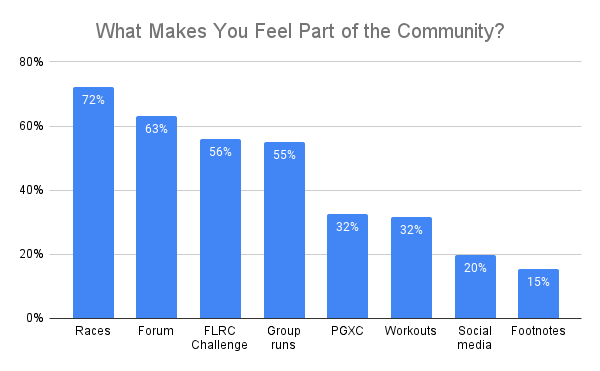 Next up, we asked what sort of running events you enjoy. Trail and road led the pack, unsurprisingly, well ahead of unusual events like the FLRC Challenge and group runs, after which the votes tail off for the rest of the answers.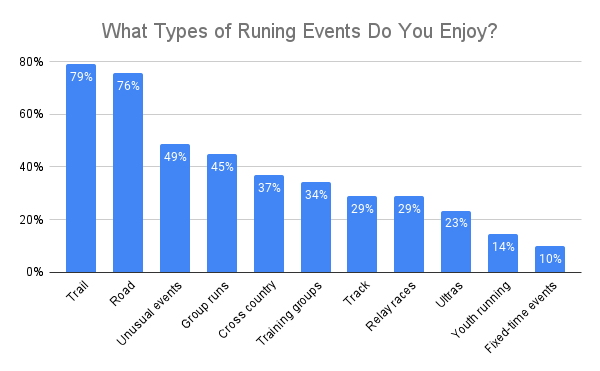 Low scores on the previous question are often more indicative of a lack of familiarity than anything else. When we asked what you'd like to try, relay races, fixed-time events (where you see how much distance you can cover in a certain number of hours) popped to the top, followed by cross country, unusual events, ultras, and training groups. We'll do our best to alert you to opportunities to try all of these!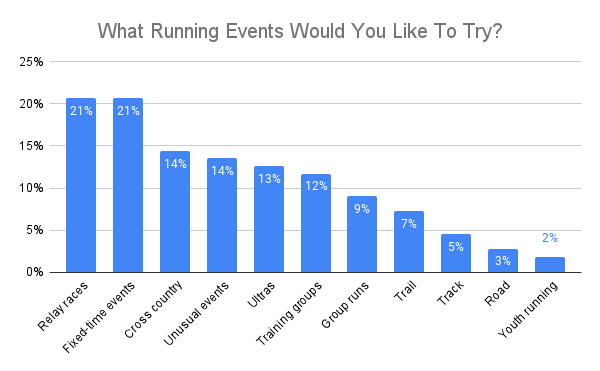 We've saved the best for last! What are your favorite post-race foods? And which bagel flavor rules? The top banana is, well, the banana, followed closely by bagels. No huge surprise there. After that, it's a steep dropoff, and we probably won't be putting rice cakes on the post-race food tables again.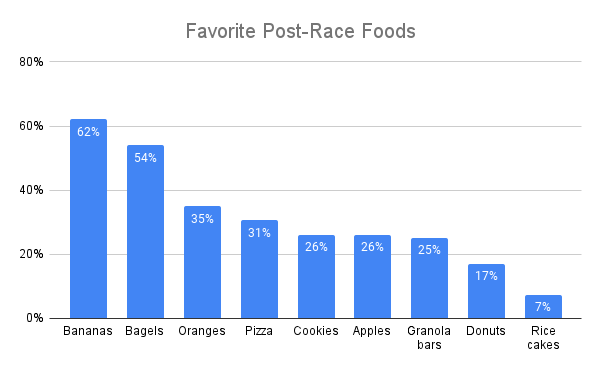 When it comes to bagel flavors, the winner is Everything. That came as a bit of a surprise, but Everything easily outpaced Cinnamon-Raisin and Sesame, with Plain lagging behind, and Onion and Poppy way back. Apparently, others hate getting a poppy seed stuck in their teeth after a race too. We'll be communicating these results to FLRC race directors so they can order appropriately when getting post-race provisions for their races.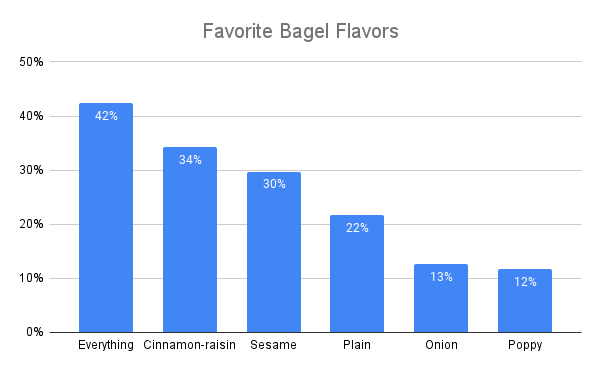 The rest of your answers will be useful as FLRC continues to evaluate what we're doing and where we can make the club and its events more fun and inclusive. Thanks so much for participating, and thanks too for the many kind comments in the free-form answers!