Hello, @pgxc-flrc and @pgxc-high-noon!
We'll be racing this Sunday at Cato-Meridian High School (2851 NY-370, Cato, NY 13033), which is a 1:15 drive from Cornell. The course map shows a parking lot near the start/finish.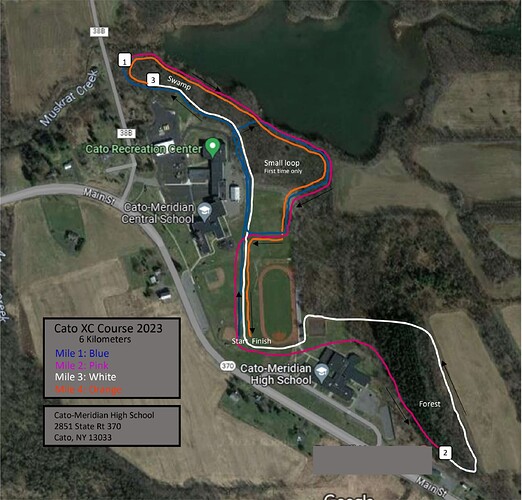 The race starts at 11 AM, so we recommend arriving at 10 AM so you have time to pick up your bib from the race organizers, get a singlet if you need to borrow one, and warm up with your team before the race. We'll have a tent marked by FLRC flags where you can leave your stuff and meet with teammates to warm up.
Carpool
Here's the carpool plan:
Cornell: The main carpool will leave from its traditional location in the southwest corner of the Cornell B Lot. Plan to arrive at 8:30 AM. We'll sort people into cars and leave at 8:45 AM sharp. If you plan to join this carpool, please reply to this post on the forum and indicate whether you can drive or would prefer to be a passenger. If we don't already have it, please include your phone number so we can communicate via text. 607-275-9557 finds me, and Tonya is 607-275-8383.

Downtown Ithaca: At least Mik, Jason, Bob S, and Jesse will be leaving from downtown. If anyone else wants to leave from downtown, please reply on the forum so we can coordinate more cars. Be sure to include your phone number.

Other areas: Folks from Cortland, Lansing, and Danby may wish to drive separately rather than coming into Cornell first. That's totally fine, but if you want to carpool with others in your area, reply here and we'll see if we can match people up.
Team Stop for a Late Lunch
We're planning to stop for a late lunch at Treleaven Winery (658 Lake Road, King Ferry, NY 13081) and we'll see if having Ben Lambert (who works there) with us gets us special treatment.

See you at the race! –Adam & Tonya