OK, @pgxc-men and @pgxc-women, those of you who were there know just how hard a race this was, but for those who didn't make it, we need to set the stage. First, we're talking about an 8K course at the Finger Lakes Community College (after running 5K three times and 6K once so far), and one with not just the most significant hill of the series, but a couple of smaller rolling hills at the bottom. This is a hard course.
But what pushed it over the top was the truly awful footing. Thanks to the torrential rain we've had this summer and fall, the ground was wet and muddy in numerous places, including on the steep hill. Fine, you say, so you wear spikes or trail shoes, and you run off to the edge of the trail for firmer ground. Nice idea, but no go. When it was muddy, the entire trail was muddy, and there was no win of running higher on the hill or off to the edge. And the mud. Blech! It never cleared from treads, so within the first few steps into the first muddy section (about 200 meters in), my Saucony Peregrines' soles were completely full of mud, and it never came out. (This happened on the warmup too, and I had to spend a few minutes with a stick to get it out.) So not only were shoes heavy throughout the entire race, all traction was lost.
It's not an excuse—everyone had the same conditions—but nonetheless, I don't think I've run a race with worse footing apart from the historical snow- and ice-covered championship race at Drumlins Golf Course a few years back.
On the plus side, the weather was unseasonably and unbeatable—60 and sunny. Jamie Love got a bunch of great photos. Check out this flying start photo!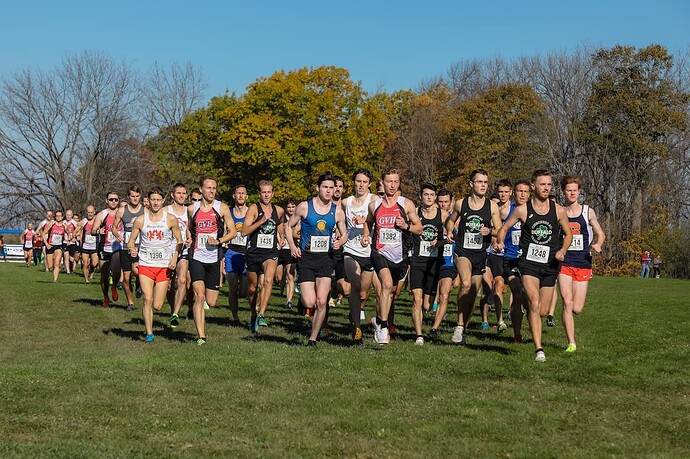 Team Results
Alas, our winning streaks ran out at this race and we ended up with three seconds, two thirds, a fifth, and two incomplete teams missing just one runner.
FLRC U19
Despite a brilliant race from Banyan Love after someone accidentally stepped on his heel and pulled his shoe off at the start and Trent Thibault joining the team, we still only had four finishers—with Ben Lambert and Oliver Lambert—and thus lacked the fifth runner necessary to score.
FLRC Open Women: Second
Strong races from Kathleen Kanaley (3rd) and Jenny Berkowitz (7th) weren't enough for FLRC to compete with the powerful Checkers squad (1-2-4-6-13), so we took second this week. Other scorers included Sarah Codd (9th), Molly Doruska (15th), and Sarah Ridenour (22nd), with Amalia Skilton and Louise Debefve filling out the team.
FLRC Masters Women: Fifth
Thanks to Michelle Woods (11th), Julie Barclay (14th, but at least racing again after a months-long misdiagnosis of Lyme disease), and Patty Larkin (17th), the Masters women took fifth.
FLRC Vets Women: Second
GVH put all the pieces together and snuck past FLRC for the first time, 12 points to our 15. Caitlin Loehr (2nd), Sandy Gregorich (6th), and Brenda Osovski (7th) all ran well, but weren't able to compete with GVH's 3-4-5 placing. Kim Jackson filled out our team.
High Noon Open Men: Third
Although we had our triple Adam threat in place yet again, the Syracuse Track Club and Checkers have just been way too deep for us this year. Syracuse won with 35 points, Checkers was second with 36, and High Noon was third with 91. Adam Pacheck (7th) led the team, followed by Adam Berkowitz (14th), Alex Draxic (15th), Patrick Milano (27th), and Adam Schoene (28th). Bill Watson filled out the team just one place back in 29th.
High Noon Masters Men: Third
With Checkers and GVH tying for first (Checkers won on the fifth-place tiebreaker) with 39 points, we did well to stay ahead of Roadkill and place third. Newcomer Jordan Varano led the team in 6th, with stalwart Tristan Lambert in 17th. Newcomer Bill Thibault was 21st, with Aaron Ristow (22nd) and Damian Clemons (26th) rounding out the scoring in their second races ever.
High Noon Vets Men
Injury continued to plague our Vets team, which failed to field five runners even with help from the Super Vets. Team captain Adam Engst suffered a calf strain halfway and limped it in what would probably have been 8th, followed by Jean-Luc Jannink (~13th), Jamie Loehr (~30th), and Super Vet Carl Franck (~34).
High Noon Super Vets Men: Second
With Casey Carlstrom back and placing 5th, followed by Alan Lockett in 10th and Charlie Fay in 11th, the Super Vets team tied for second with Checkers, and won on Charlie Fay's third-place finish being higher than Checkers' third-place finish (6-7-13).
Individual Results
It wasn't our best race for winning individual chocolate either, but two of our standouts continued their stellar running:
Kathleen Kanaley: 2nd in Open women (after the overall winner)
Caitlin Loehr: 2nd in Vets women
You'll notice that I haven't said a thing about the overall series results. That's for another post.
And please RSVP for the post-season party if you haven't already!