Sorry for the delay on this writeup, folks—busy juggling cats here and I was hoping we'd get better results from the race organizers. Nevertheless, the results from the race are up.
Photographer Jamie Love once again took a bunch of great race photos (and special thanks to Banyan Love for carving us an FLRC jack-o-lantern). If anyone on the @pgxc-men or @pgxc-women teams (or friends and family) also took pictures at the race, please upload them there!
Team Results
The FLRC Open women's team won the first two races by 1 point and then 2 points. This one was even closer—a tie with Checkers that we won by virtue of a higher fifth runner placing. In her first race of the season, Bella Burda (2) led the team, followed by scorers Kathleen Kanaley (4), Sarah Codd (7), Jenny Berkowitz (9), and Gabby Woo (12). Props to Jenny Berkowitz for outkicking two other women right at the finish, and to Gabby Woo in general, since her place was the tie-breaker. Margaret Frank, Liz Hartman, Kate McCormick, and Amanda King rounded out the A team. It's cross country, and every place counts!
The FLRC Vets women's team also notched their third victory, led by Caitlin Loehr (2), Brenda Osovski (5), and Sandy Gregorich (6), and with Kim Jackson and Julie Randall filling out the team. They too won by a very small margin' two points if I remember correctly.
Here's a photo of many of the women from all different teams.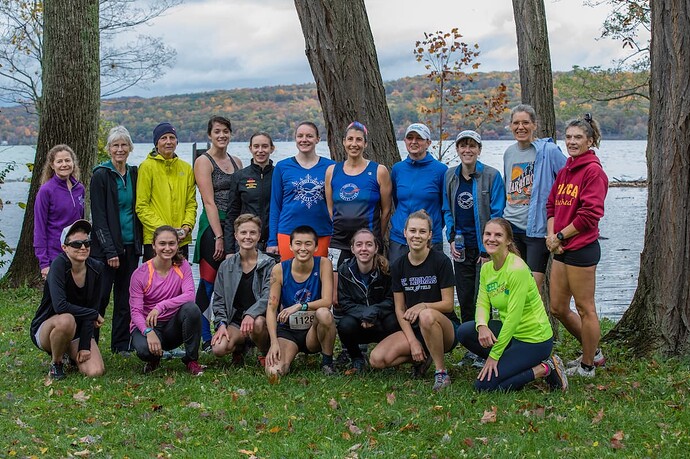 Finally, the FLRC U19 team won its first race, and while they posted some good times, there was no competition from any of the other clubs. Thanks to Jack Barton, Ryan Savage, and Quincy Garin for helping our regulars (pictured below) Banyan Love, Benjamin Lambert, and Oliver Lambert field a full team.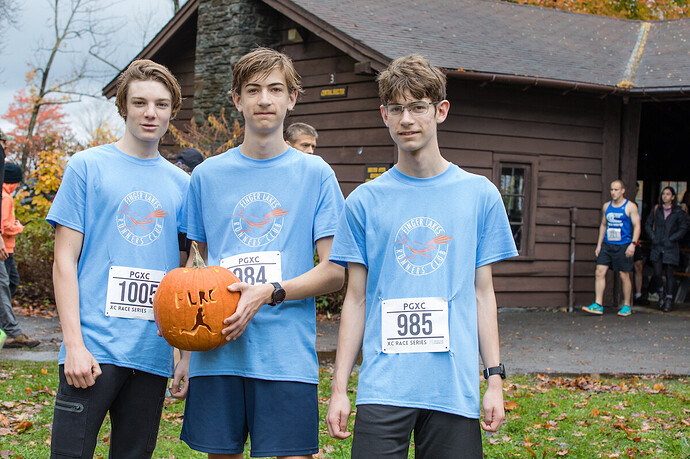 Our other teams ran well, but were up against some strong clubs. Nonetheless, it was great to see so many runners from Ithaca come out, enabling us to field full teams in every age group (other than the 70+ Ultra Vets category), along with B teams for Open women, Open men, and Super Vets men. The full list is:
FLRC Open women: 1st and 5th
FLRC Masters women: 4th
FLRC Vets women: 1st
FLRC Super Vets women: 2nd
High Noon Open men: 3rd and 7th
High Noon Masters men: 3rd
High Noon Vets men: 3rd
High Noon Super Vets men: 4th and 8th
One last team photo, and it's still missing a lot of people who were out on their cooldowns!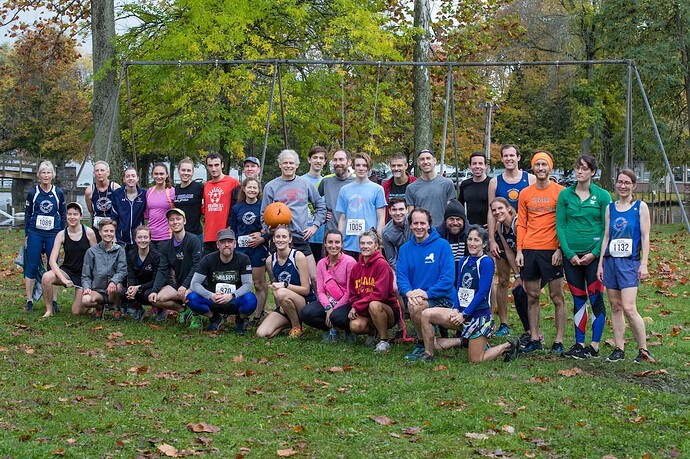 Individual Results
Our individual results were once again decent, though the other clubs brought a lot of good runners, so several High Noon men ended up just out of the chocolate in 4th place. Top performers included:
Jack Barton: 3rd in U19
Bella Burda: 1st in Open women (after the overall winner)
Kathleen Kanaley: 3rd in Open women
Caitlin Loehr: 2nd in Vets women
Nancy Kleinrock: 3rd in Super Vets women
Scott Weeks: 4th in Masters men
Casey Carlstrom: 4th in Super Vets men
Individual standings are updated for this race too, so you can see how you're doing for points. Remember, the top 10 in each age group traditionally win a bottle of wine.
One more race for 2021, and then we're on to our own awards ceremony and celebration on November 14th—pencil it in on your calendars!