@pgxc-flrc The first race of the 2022 Pete Glavin XC series is this Sunday, September 11th, and it's time to start organizing the roster. Below is what I have so far for the FLRC women's team. Please check that your name is correctly listed, and write back to this forum post (or otherwise contact me) if you need to change anything.
The race is a 5K at Long Branch Park in the Syracuse area. There will be a separate message to the forum later this week with FLRC/High Noon carpooling details and notes on a place to stop for lunch/socializing on the way home afterward.
Open
I will contact a few women who may be able to join in our Open team for Sunday; we do have some interest, but only Molly so far is able to attend this first race.
Ages 40–49 (Masters)
Jessica Daily
Julie Barclay
Rebecca Lambert
Michelle Woods
Tonya Engst (running down)
Ages 50–59 (Super Vets)
Brenda Osovski
Caitlyn Loehr
Gretchen Gilbert
Kim Jackson
Kris Haines-Sharp
Ages 60–69 (Super Vets)
Anne Shakespeare
Gillian Haines-Sharp
Lorrie Tily
Deb Bliss (running down)
Ruth Sproul (running down)
What to wear & borrowing a jersey
Wear shorts that you like to run in. We used to wear blue or black to coordinate with our jerseys, but this year, some people want to try bright colors to go with our orange/yellow suns.
Women: You can wear an old-style FLRC jersey or a new one. If you don't already own something you like, note that I will have them with me at the Friday night spaghetti dinner party, so you can select one then. Otherwise, be prepared to make a selection and change at the race (most women change out in the open, over their jog bras and it's not a big deal). With the old and new jerseys, there is a good fit for (almost) everyone, and it is first come, first served. In a pinch, it is OK to wear anything, even if it is not a team jersey.
Carpools & when to arrive & race day logistics
Adam and I will be organizing FLRC/High Noon carpools along the lines of our pre-COVID carpooling, though people should always feel free to wear masks in cars or travel singly if that is what works for them. The main carpool will leave from Cornell's B-lot at a time that we'll announce later this week, so stay tuned. We have several Cortland area runners, so if you are in that area, please contact ljtily@gmail.com and/or Julie.Barclay@cortland.edu to ask about a carpool.
The race starts at 11am, so I suggest you aim to arrive around 10am. When you arrive, you will need to pick up your number from the main race organizing table, and you can drop off your stuff and find team members at the FLRC tent. Extra jerseys will be at the tent; feel free to borrow one without me if I'm not there. Aim to get to the start line 5–10 minutes before the race so you can join the team cheer and hear any announcements from the race organizers.
Directions & maps
The race is at Long Branch Park in Liverpool, NY. Google Maps brings it up. If you see a small GVH sign once you are near or in the park, follow it (GVH is the running club that puts on the PGXC series). Last year, we parked in the big lot near the lower right of this photo: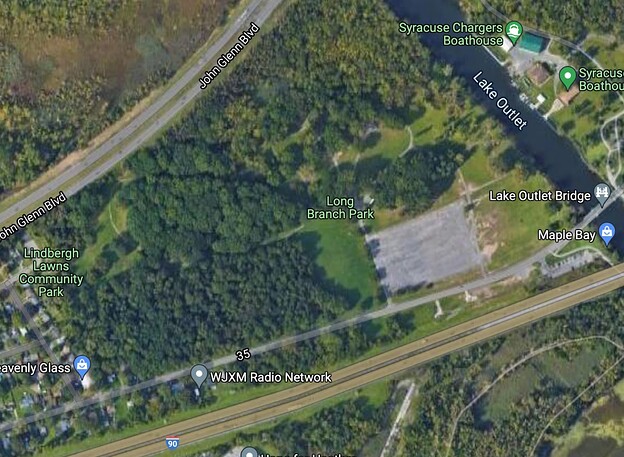 After the race
When you finish running, stick around near the finish line to cheer for teammates. Our slower runners are crucial to scoring! If you are a slower runner, congratulations on finishing!
Do a post-race cool down with others on the team. We will have runners trying to put in a few more miles, and runners who are happy to have managed the race distance, but everyone would benefit from at least a short cooldown jog before getting back in the car.
There will be post-race refreshments, provided by the PGXC series, such as bananas, oranges, energy bars, and single-serving chips/pretzels.
A half-hour or so after all runners finish, there will be an awards ceremony for individuals in their age groups (chocolate) and teams (beer) who placed well.
In a separate post, Adam and I will let you know about a place on the drive home where we will be stopping for lunch and socializing. This is also a great way to help keep your legs loose during the drive home.