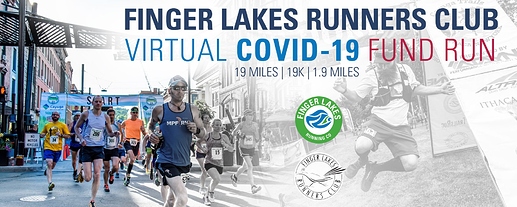 Greetings runners!
The Finger Lakes Runners Club is hosting a virtual run to benefit the Finger Lakes Running Company—Ithaca's only specialty running shop. The COVID-19 pandemic is hitting small businesses especially hard, and many will struggle to stay afloat without community support.
Ian Golden's Finger Lakes Running Company has been a pillar in the Ithaca community for the past 14 years. Ian depends on his business to help pay the bills and support his family. 100% of the proceeds—every single cent—from this virtual event will be donated to the Finger Lakes Running Company to be used as needed while closed under the "New York State on PAUSE" executive order. Registration is now open on UltraSignup and you can find further details on our Web site.
When & Where
Run a total of 19 miles during the week of April 27–May 3. If 19 miles is too much, we also have 1.9-mile and 19K (11.8-mile) options. This can be on roads, track, trail, treadmill, a 1983 StairMaster 6000™, laps around your living room coffee table—it doesn't matter! You can run the miles all at once or split them up between multiple days. Walk, hike, skip, or bear crawl if you don't want to run. What's important is that we are paying it forward and giving back to our community.
We encourage you to post pictures and a recap of your run to the FLRC General forum and social media. Take pictures, share stories, and use hashtags #RunGorges and #SaveOurShops. Video chat on the treadmill. Live stream your trail run. Let's reach as many people as possible and have as much fun as we can while physically distancing.
We will be purchasing and awarding $50 gift cards from the Finger Lakes Running Company to 10 randomly chosen runners who complete the virtual race and submit their finishing time before 11:59 PM on May 4, 2020. Please see our Web site for the drawing's rules and eligibility.
We hope you remain healthy and safe while still being able to reap the rewards that come with regular exercise.
Pete Kresock
Race Director, Finger Lakes Runners Club