We don't have the exciting team competition to watch in the final weekend this year, @Challengers, but there is still plenty of action.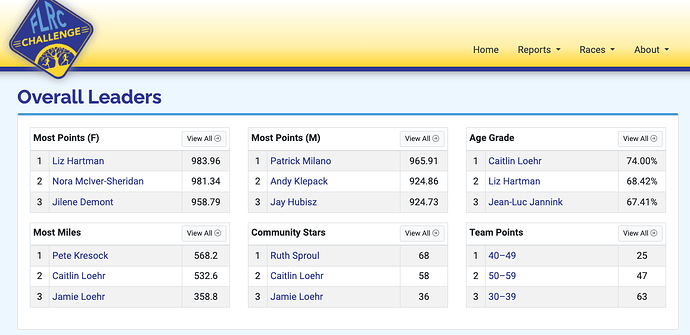 In Most Points for women, Nora McIver-Sheridan isn't going down lightly. She dropped nearly 4 minutes from her Dryden Lake Lollipop time this morning to take the top spot for that course and move within 2.62 points of Liz Hartman.

In Most Points for men, while Patrick Milano took it easy on Dryden Lake Lollipop (necessary for his goal of finishing all the courses twice), he remains solidly in first place. Andy Klepack is still in second, but now by only 0.13 points ahead of Jay Hubisz, who ran the fastest Blueberry Patch time of the year. Jay can likely find some more points in Lakefront Loops, where his early-season time was during a group run. Mik Kern is almost certain to take second given that he has 857 points now, with only Sweet 1600 to go—and while he's not in top shape, he's still one of the fastest adult milers in the area.

In Most Miles, Pete Kresock ran six Lakefront Loops yesterday, on top of his Ultra Challenge the day before, but Caitlin Loehr responded with a Dryden Lake Lollipop this morning to reduce the gap from about 50 miles to 36. Seems like a lot, but I'm not calling it either way.
Who needs elites when we have such compelling competition among our local runners!