It's inevitable, in a running club whose history spans over half a century, that some of our members would have passed away over the years. But the death of Oliver Habicht, who lost his 2-year race against pancreatic cancer on September 25th, 2020, hits hard for many.
Oliver was only 53 and had been running in FLRC (and other) races for many years, with some of his most memorable efforts coming in the Hartshorne Memorial Masters Mile, where he won his heat each of the three times he ran. In 2008, at age 40, he won the Men's Section 2 heat in 5:35, following that up in 2017 at age 49 with a Men's Section 3 heat win in 6:09. His last race came this year in the Combined Men & Women heat, where he took the tape one final time in 8:00. Not too shabby, considering the horrific chemotherapy, radiation, and surgery that he'd undergone in the previous year. Results from the FLRC site also show Oliver running the Skunk Cabbage Classic (once barefoot!), the Twilight 5K, Danby Down & Dirty, and lots of track meets. He also ran several marathons.
Many of those races he participated in with members of his family. His wife Amelia Habicht has long competed in and volunteered at FLRC events, and even after her stroke in 2009, she has been a regular sight at club races, toughing out efforts that are unimaginably difficult without the full use of her left leg. Their son Peter Habicht ran Skunk and Twilight and other races as a teenager, and their daughter Cady Habicht helped time a number of FLRC races in 2019.
As much as we hope to see Amelia, Peter, and Cady again once FLRC can restart in-person races, I'll always miss having Oliver on the starting line in his trademark green shirt.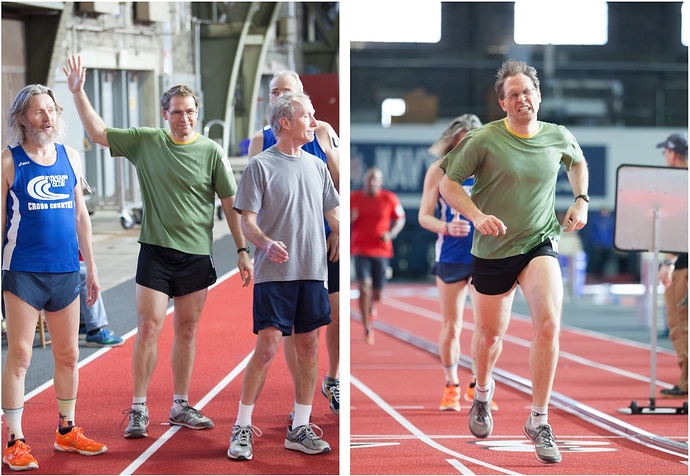 Oliver at the 2017 Hartshorne introductions and finish line. Photos by Steve Gallow.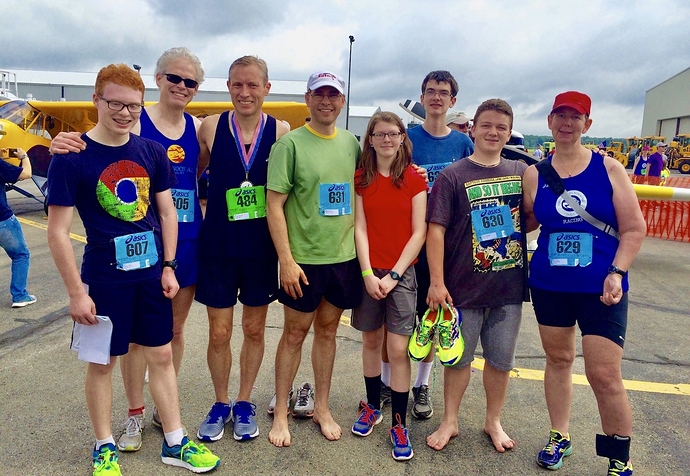 Oliver with friends and family at the Runway 5K in 2015. Photo by Tonya Engst.