@Challengers, we have our second FLRC 100K Ultra Challenge finisher for 2023, Pete Kresock! With two Ultra Challenge finishes in 2021, one in 2022, and now one in 2023, Pete retains his title of most Ultra Challenge completions.
Pete started in the relatively cool temperatures last night out at Lime Hollow and then followed an east-to-west strategy like Dennis Stadelman, knocking off the smooth-surfaced Dryden Lake Lollipop, Sweet 1600, Ludlowville Loop, and Cornell Scenic Circuit. As the sun started to appear, he did Ellis Hollow Creek Crossings and Six Mile Creek, giving him Lakefront Loops and Black Diamond Park to Park in the early morning, and leaving only Blueberry Patch for later in the morning. Even with all the nighttime running, the recent heat makes this an even more impressive achievement!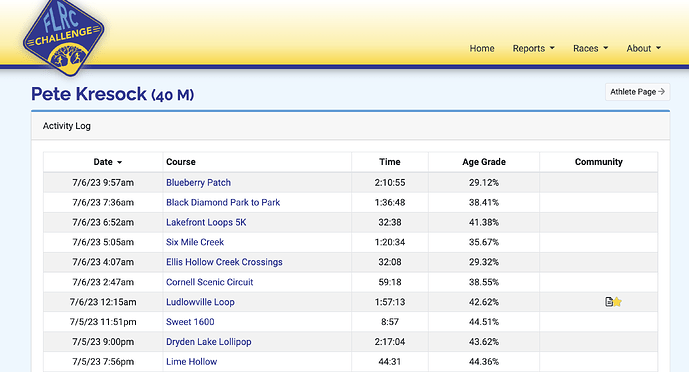 Pete's running time was a mere 12:20:06, an hour faster than his fastest times in 2021 and 2022, and his elapsed time was just 16:11:55, a good bit faster than his previous efforts. I clearly made this year's courses too easy.

Pete has started posting haikus for each course (see what running super long distances does to your brain?) and he has promised a full recap, presumably once he gets some sleep. Then we'll find out if he swung by my pond for a cooling dip after running Ellis Hollow Creek Crossings at 4:30 AM while I was still comfortably asleep.