After two successful years and over 35,000 miles covered, the FLRC Challenge is back for 2023 with new courses, more inclusive ways to participate, and new swag—it's easy going green! Your goal, should you want to play in this huge community game with hundreds of other local runners, is to complete all ten courses between April 15th and August 13th. Register now!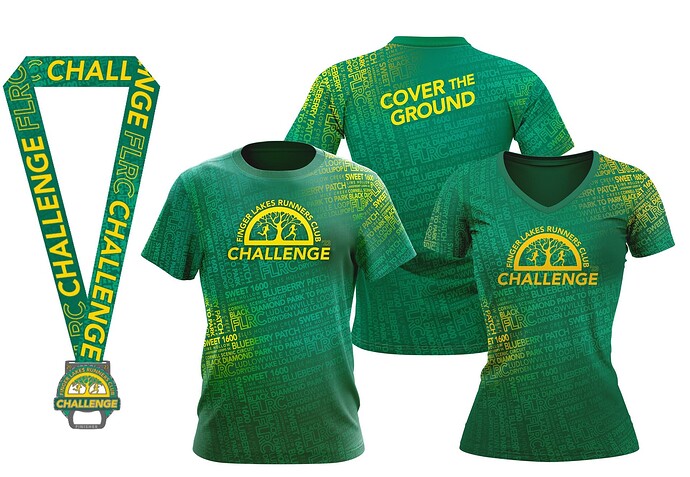 Everyone who runs, walks, or hikes all ten courses at least once in the next four months will win a new—and magnetic!—FLRC Challenge medal. This is a true accomplishment—only about 70% of last year's participants claimed their medals in the end. Don't be intimidated, though. The Challenge is more about personal grit than running prowess, and there is no shame in hiking a course that's longer or hillier than you want to tackle at a run. (Says the guy who hiked the two longest courses last year due to injury.)
The Challenge is for everyone, so if you're shy, a new option lets you hide your times. Plus, we're introducing the FLRC Personal Challenge. Those for whom running all ten courses is infeasible can work with us to define a custom version of the Challenge. Perfect for kids (a 6-year-old completed 6 courses last year), those whose mobility limitations preclude trails, or someone just starting out who shouldn't attempt a half marathon.
This year's courses range from 1 mile to the half marathon, on track, road, and trail. They're spread out around even more of our lovely area, from the verdant Finger Lakes National Forest and the scenic rural roads of Lansing to the twisty trails of the Lime Hollow Nature Center. (And a lot in between!) You can keep notching Challenge efforts even while traveling, either by finding a track to record a Sweet 1600 effort or running a 5K race or parkrun and logging it as a Lakefront Loops 5K effort.
The FLRC Challenge leaderboard (just about to be reset) records your runs and lets you see what all your friends have done, with our traditional categories of fastest time, best average time, most miles, and age-group teams. We'll see if the Fantastic 40s can defend their team title against the hard-charging Fabulous 50s or the 2021 champion Thundering 30s!
We'll have discussions in the FLRC Challenge forum, along with regular recaps to shine a light on everyone's achievements. "Community stars" are back this year, too. Run with others or post a report or picture from your run, and you'll earn community stars, with prizes to the top ten socialistas.
Overall prize winners will receive gift certificates to the Finger Lakes Running Company, with the amounts proportional to the number of Challenge participants—42 people shared over $1,500 last year. Notch the most efforts on a course, and you'll also take that course's sign home at the end!
For you ultramarathoners, don't miss the FLRC 100K Ultra Challenge. Run all ten courses in 24 hours, and you'll win an FLRC Challenge course sign, customized to commemorate your impressive achievement. Last year, eight people basked in the glory of completing the Ultra Challenge—will you be one of them this year?
Opening day is Saturday, so register soon to be ready on April 15th for the kickoff group run. Join us at 8:30 AM at the Cornell Botanic Gardens for a look at the new Cornell Scenic Circuit course! We'll be hosting group runs on FLRC Challenge courses throughout the summer, and this year we'll have a full award ceremony at the FLRC annual picnic on August 24th.
Challenge yourself in 2023!