Registration is now open for FLRC's 2021 trail series finale—the Danby Down & Dirty 10K/20K trail runs, on October 2nd. You trained through the summer heat, right? Why not reap the benefits of your increased level of blood plasma on what is usually a crisp autumn morning, while immersing yourself in the area's beautiful fall foliage? This classic race covers forest roads, burly singletrack, and hills, Hills, HILLS, through Danby State Forest. If it's a clear day, sacrifice a few seconds to enjoy the spectacular multi-county view from the Thatcher Pinnacles halfway through the 10K loop before plummeting headlong down a twisty trail!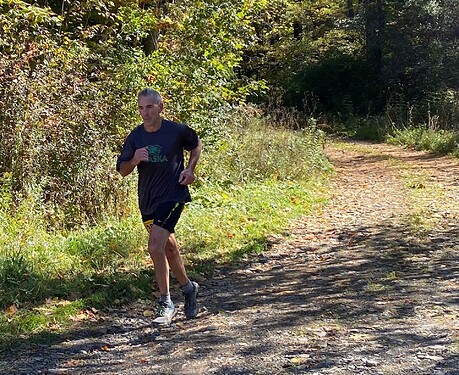 Run a single loop for the 10K, or complete the 10K and continue on a partially overlapping second loop for the 20K. FLRC Challenge participants can clock their split to the Challenge sign at the Michigan Hollow Road crossing, just before the 10K finish. (Not registered for the FLRC Challenge? It's not too late to sign up!) Afterward, relive your race while enjoying seasonal post-run refreshments with your fellow runners. More info.
Volunteers are what make this and other FLRC events possible. If you aren't running the race and can help out, or are running and willing and able to pitch in a little before and/or after your run, let me know! Comment here, DM me (click my name and then the blue Message button), or email pete.kresock@gmail.com.
Thanks, and happy trails!
Pete Kresock
Race Director, Danby Down & Dirty