@pgxc-flrc, @pgxc-high-noon, Our FLRC women and High Noon men had a thoroughly enjoyable outing to Buffalo in the first PGXC race of 2023, with what must be a record number of runners for such a far-away race: 38 people all told. That's huge, and thanks to everyone who helped us fill out teams! 14 of us also had a lovely lunch at Simply Crepes in Canandaigua on the way home—what better way to cap off a gorgeous fall day of cross-country?
I took a bunch of photos at the race, and my apologies for them being fuzzier than ideal. My iPhone shots can't compete with Jamie Love's professional DSLR, long lens, and years of experience.

If you have any other photos from the race, please share them in the album.
Full results are now available, and two of our teams won their divisions: Coed U19 and Women's Super Vets!
The U19 team is a funny story. We went into the day with only two runners (out of the three necessary to score), but shortly after setting up our tent and table, a woman came over and asked if she could leave her stuff at our tent. I said sure, but asked what team she was on since it didn't make sense if she was running for another team. But she replied that she wasn't running; it was her 15-year-old twin daughters, and they were unattached. Following my motto of "Recruit shamelessly!" I immediately invited them to join our U19 team, and she said yes. So thanks to the addition of Gretchen Hulsey and Kate Hulsey, who, it turns out, had run some of our indoor meets, Banyan Love and Rahmon Daily ended up not just with a team but a winning team, ahead of Checkers and Syracuse Track Club. They didn't win beer, of course, but bags of chocolate-covered pretzels. Individually, Banyan won the division outright, and Rahmon was second (beating out third by 1 second!), so they both went home with double chocolate.
The Women's Super Vets team has been doing a great job of recruiting this year, too, and they've ended up with a stellar lineup. Sandy Gregorich was third overall in the division, and with Lorrie Tily's 5th and Laura Helmerick's 6th, they beat out GVH by 3 points for the win. And that's without Gill Haines-Sharp, who's guaranteed to contribute. Marie Fitzsimmons also ran on the Super Vets, and Anne Shakespeare and Ruth Sproul ran down to complete our Vets team.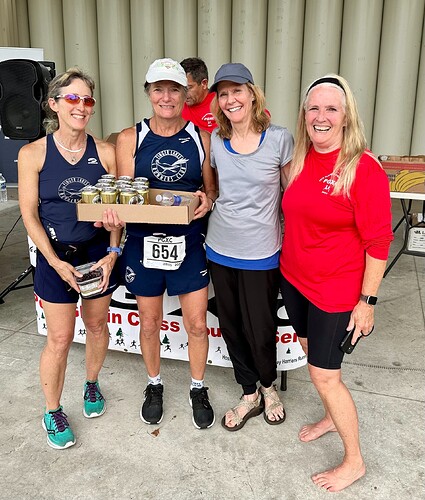 Team Places
FLRC U19: 1st
FLRC Open: 4th
FLRC Masters: 5th
FLRC Vets: 3rd
FLRC Super Vets: 1st
High Noon Open: 4th
High Noon Vets: 3rd
High Noon Ultra Vets: 2nd
Individual Awards
Banyan Love: 1st Men's U19
Rahmon Daily: 2nd Men's U19
Kate Hulsey: 2nd Women's U19
Julie Barclay: 2nd Women's Vets
Sandy Gregrorich: 3rd Women's Super Vets
Ruth Sproul: 2nd Women's Ultra Vets
Charlie Fay: 1st Men's Ultra Vets
Joel Leff: 3rd Men's Ultra Vets
I hope to see even more runners out for our second meet on October 1, which is a lot closer at Cato-Meridian High School, about 1.25 hours away. It's never too late to sign up!