@pgxc-flrc, @pgxc-high-noon, we had another fun race at Cato-Meridian High School north of Auburn with 40 runners competing for the FLRC and High Noon teams. And 28 people stopped off at Treleaven Winery on the way home for lunch on a sunny afternoon with live music in the background—hard to beat.
Jamie Love was on hand and took a bunch of race photos, as did I. You can tell the difference, though my iPhone 15 Pro did better than I expected. If you have any other photos from the race, please share them in the album.
Full results are now available. Partly due to the Syracuse Track Club bringing a whopping 93 runners, we were able to field only one winning team, our Coed U19! With Banyan Love, Ben Lambert, and Rahmon Daily joined by twin sisters Kate Hulsey and Gretchen Hulsey, we scored 8 points to STC-A's 18 and STC-B's 27. For the team scoring, Banyan was first, Ben was third, and Kate was fourth.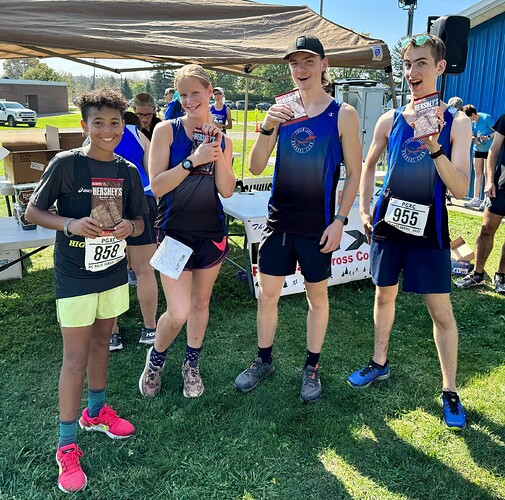 Although our team places weren't the best, we still brought home a good amount of individual chocolate for top three placements.
Our next race is our home meet at TC3 on October 22, and I hope to see lots of local runners there! Sign up soon!
Team Places
FLRC U19: 1st
FLRC Open: 5th
FLRC Masters: 5th
FLRC Vets: 3rd
FLRC Super Vets: 2nd (by just 2 points!)
High Noon Open: 5th (and our B Team is still waiting on a correction)
High Noon Masters: 2nd
High Noon Vets: 3rd
High Noon Super Vets: 4th
Individual Awards
Banyan Love: 2nd Men's U19
Kate Hulsey: 2nd Women's U19
Gretchen Hulsey: 3rd Women's U19
Julie Barclay: 2nd Women's Vets
Gill Haines-Sharp: 3rd Women's Super Vets
Ruth Sproul: 1st Women's Ultra Vets
Charlie Fay: 1st Men's Ultra Vets
Joel Leff: 3rd Men's Ultra Vets