400 VOLUNTEERS NEEDED FOR SPECIAL OLYMPICS NEW YORK STATE SUMMER GAMES IN ITHACA JUNE 9 & 10
Ithaca, NY–The largest statewide Special Olympics New York statewide competition of the year is coming to Ithaca June 9 & 10. More than 800 athletes and coaches from throughout the state will be in the area for State Summer Games June 9 & 10 for competition in 7 sports: Basketball, Bowling, Gymnastics, Powerlifting, Swimming and Tennis.
Local leaders and athletes hosted a press conference at Ithaca High School Wednesday to announce the details of the Games and to recruit 400 volunteers from the Tompkins and Broome County communities.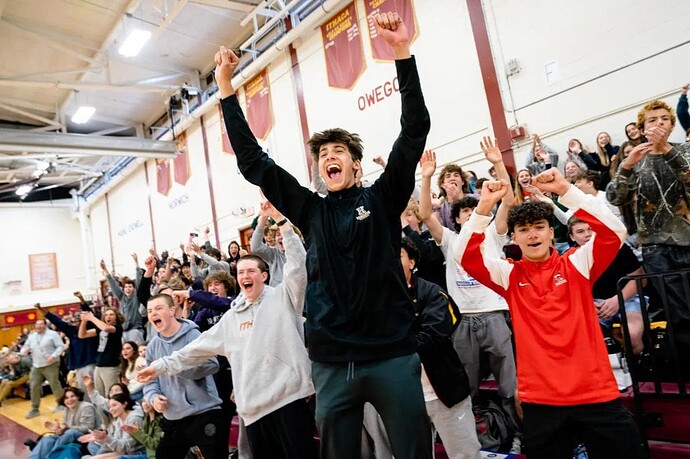 Credit: Casey Martin, The Ithaca Voice
No sports experience is necessary to volunteer. There are a range of jobs for individuals and groups, including set up, meal distribution, athlete escorts, photographers, timers, scorekeepers and more. All volunteers must be age 13 or older; those ages 13 to 15 must be accompanied by an adult.
Special Olympics New York President & CEO Stacey Hengsterman said, "Our athletes can't wait to return to Ithaca for State Summer Games. They're looking forward to the competition–first and foremost–but I know they'll want to see the volunteers they met last year as well. Thank you, Ithaca, for helping us make the 2023 State Summer Games our best yet."
Ithaca College President La Jerne Terry Cornish said, "We provide countless volunteers, but this is not an act of charity. In return, the athletes give us more than enough. They fill our souls with inspiration, they fill our hearts with admiration, and several times last year, they filled our eyes with tears. In victory and defeat, their epic stories move us."
Ithaca City School District Deputy Superintendent Lily Talcott said, "We are so honored to be hosting Special Olympics right here in Ithaca. Our community's deep commitment to inclusion, including the tremendous outpouring of support for our Unified Sports teams, makes this special day even more important to us. Thank you to Special Olympics and to amazing students, staff, and families, who help make all of this possible."
Tompkins County Chair Shawna Black said, "We are so excited that the Special Olympics New York State Summer Games is back in Tompkins County. We look forward to hosting the amazing athletes, their families, and spectators!"
State Summer Games weekend begins Thursday, June 8 , at Stewart Park, where Special Olympics New York will host "A Night of Champions" to honor local Game Changers and raise funds to support the Games. Tickets are on sale at Night-of-Champions.org.
On Friday, June 9 , athletes and coaches will travel to Ithaca from throughout the state, coming together for a signature Opening Ceremonies at Ithaca College, beginning at 7 p.m. Sports competitions will take place all day Saturday, June 10 , at: Ithaca College (Swimming, Basketball, Gymnastics, Powerlifting, Tennis); Ithaca High School (Track & Field); and Midway Lanes (Bowling), followed by Closing Ceremonies at the college.
State Summer Games sponsors are: Tompkins County (Presenting Sponsor), Maguire Foundation (Opening & Closing Ceremonies), Coughlin & Gerhart (Night of Champions), Alternatives Federal Credit Union, Cayuga Health, Challenge Workforce Solutions, Chemung Canal Trust Company, Christopher George Real Estate, Economy Paving, Guthrie, Harris Beach, New York Able, NYSID, Open the Lid, and Tompkins Financial.
Volunteer Areas of need:
Bowling, Saturday 6/10, 8:30am-3:30pm at Midway Bowl in Vestal–52 more volunteers needed
Athletics, Saturday 6/10, 7am-12pm shift, 11:30am-5pm shift, and full day shift at Ithaca High School–60 more volunteers needed
Powerlifting, Saturday 6/10, 7:15am-4:45pm at Ithaca College–12 more volunteers with lifting ability up to 45 pounds at a time
Volunteer as an individual or group of five or more.
Tshirt available for purchase: Volunteers have the option of purchasing a tshirt. The proceeds support our Summer Games. Register to volunteer then order your shirt by Monday, May 22nd to receive the shirt in time to wear to games. Volunteers who purchase the shirt after May 22nd will likely receive after games.
Hope to see you at the games!
Sara Massa | Associate Director of Program, Sports
SPECIAL OLYMPICS NEW YORK
94 New Karner Road, Suite 208, Albany, NY 12203
smassa@nyso.org