@Challengers, we have our third FLRC 100K Ultra Challenge finisher for 2023, Steve Jesch! Steve also set the 2023 mark for the fastest running time with 11:10:33. His elapsed time was 16:48:10, well under the 24-hour limit.
Steve continued the general approach set by Dennis Stadelman and Pete Kresock, starting with Dryden Lake Lollipop in the dark at 4:32 AM, and then moving on to Lime Hollow and Ludlowville Loop. As the day started to warm up, he knocked off a centrally located Sweet 1600, Cornell Scenic Circuit, Ellis Hollow Creek Crossings, and Six Mile Creek. Next, he drove out to Hector for Blueberry Patch before returning to Ithaca for Black Diamond Park to Park and Lakefront Loops 5K.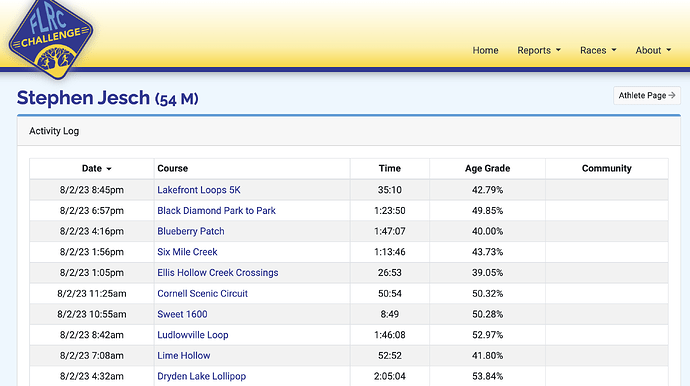 I hope Steve will give us a full report on his accomplishment, but he told me in email that he was particularly pleased to be able to complete the Ultra Challenge after fracturing his hip in a bike fall in January and getting a long nail and screws in his femur, with his surgeon suggesting he lower his expectations. Running 100K at all, much less in 11 hours, is a testament to the willpower of a dedicated athlete working on rehab and recovery after not being able to walk without help 8 months ago.
There may be only 10 days left in the Challenge, but an Ultra Challenge effort needs only one. Will we see another, perhaps from Aaron King or Damian Clemons? Or the dynamic duo of Jami Landry (@Jami_Landry) and Paul Maza (@FARVets), swooping in for a last-minute completion?