Story
Even though I've not been feeling my strongest (tight hamstrings, vacation, illness in the house…), I decided I needed to give Taughannock an attempt at a faster run. It was definitely a challenge to pick this run over blueberry picking which opens today at Hall's Hill but I figured I would take tomorrow off to get an early start in the blueberry patch. Since I am leading (go figure?) the trail runners for the Finger Lakes Trail Club County Hike #4 on Saturday, 11.4 miles, I figured it was best to run Taughannock today and rest tomorrow by picking blueberries. On Sunday I will head out of town for another week and who knows what the start of August will bring.
Being a master at delayed gratification, my strategy was to start at the opening to the waterfall trail and head up the North Rim stairs first. This way I got the stairs/big hill over with and I got to finish fast on the slight down of the Fall's trail. Conditions were not ideal as it was very humid but luckily not too hot and I even got sprinkled on a few times. The trail is in excellent condition and I probably didn't need the bug spray I had applied.
I treated myself to a cool down walk out the Falls, since I didn't allow myself time to few it on the actual run. Not much water. I wonder if we are in an official drought yet?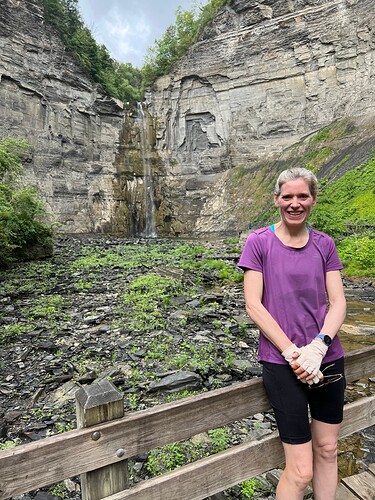 Shop Local
Next I headed to Greenstar where I treated myself again, this time to a Green Goddess smoothly before doing a big shop.