We're in the home stretch of the FLRC Challenge now, folks, and remember, the final day of the Challenge is August 14th, so get those last few courses finished! To celebrate the end of the Challenge, we're going to have not one, but two group runs, both with post-run socializing, and you're welcome to come to one or both. Mark your calendars for:
Saturday, August 13th: We'll be running the Lansing Center Trail, meeting at 4:00 PM and running at 4:15. Afterwards, we'll head over to Salt Point Brewing where we can sit outside and order pizza and beer. Bring a lawn chair in case they're busy.
Sunday, August 14th: For the last day, we'll run the popular Beebe Lake course, meeting at 8:30 AM and running at 8:45. Afterwards, we'll head over to Caitlin and Jamie Loehr's house at 25 Fairway Drive to hang out on their deck—it's just around the corner and up the hill toward the Cornell golf course. We'll have some watermelon and food to share, but bring your own breakfast or another dish to share if you like.
Thursday, August 25th: No running required, but please join us for the FLRC Annual Picnic and FLRC Challenge award ceremony. It's at 5:00 PM at the South Shelter in Treman State Park. The picnic is free, but please RSVP by August 10th so we can order the right amount of food and drink.
It was a big week in the Challenge, with our second highest mileage ever. Right now, it stands at 1041, just under the record of 1100, an impressive accomplishment given the summer weather. Overall, we've cracked 11,500 miles, so we're on track for our 13,000-mile goal, but it's not guaranteed because Week #18 has only two days in it.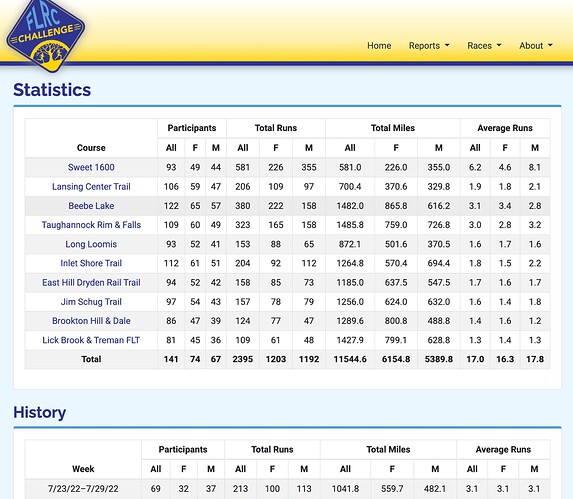 A bunch of this week's miles came from Amy Dawson and Scott Dawson, who celebrated their 24th anniversary by both completing 24 miles on the Taughannock Rim & Falls course. (Apparently, 24 is the trail shoe anniversary.) Don't miss their full blog posts, linked on the forum.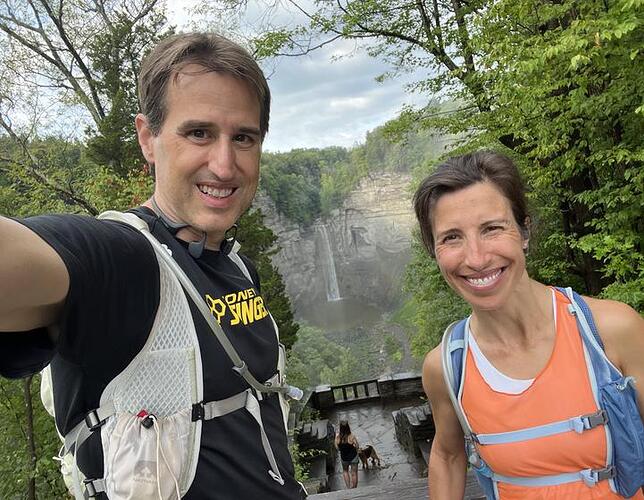 Also of note are those committed runners who have completed all ten Challenge courses not just once, but twice. They include Jamie Loehr, Ruth Sproul, Pete Kresock, and Scott Dawson. Even more impressive is Amy Dawson, who has run them all three times! That's part of why Amy is in such a tight race with Liz Hartman for Most Miles—Liz is currently in the lead by just 2.7 miles with just 16 days to go.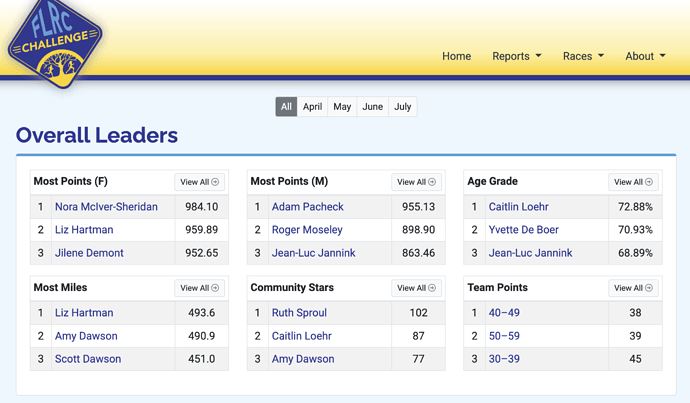 The other big leaderboard change comes from Adam Pacheck, who claimed 100 points from logging the fastest time on Brookton Hill & Dale, which catapulted him into the Most Points lead for men with 955 points, pushing Roger Moseley into second. Jean-Luc Jannink also finished this week, placing second in Most Points briefly and still holding onto third in both Most Points and Age Grade. Other completions came from Iris Packman, Kate Anderson, and Michelle Woods—congrats to all!
Note too that the team competition remains tight. The @Fantastic-40s lead by just one point over the @Fabulous-50s, and while the @Thundering-30s probably can't catch up now, they and other teams could still affect the standings. Make those runs count!
Finally, I'll be sending in the second FLRC Challenge shirt order on August 2nd, so if you didn't get a shirt and want one, or if you like it so much you want another, please order this weekend.
Until next week, keep covering the ground!