We're getting closer to Trackapalooza, FLRC's new full-slate track invitational at Ithaca High School on July 22. In recent years, our track meets have had only a few events, but Trackapalooza features 11 running events and 4 field events, ensuring that everyone gets to compete in their favorite event or try something new. Track events range from the 100m to the 5000m (racewalkers welcome in the longer distances), and field events include the long jump, shot put, discus, and TurboJav (soft-tipped javelin). The meet includes fully automatic timing (FAT) for the most accurate times. Register today—there is absolutely no day-of-meet registration due to the FAT system.
To commemorate the first running of Trackapalooza, we've designed a custom racing singlet available in fitted (women's) and straight (men's) styles. Pre-order for $20 with pickup at the meet. Quantities are extremely limited, so order soon!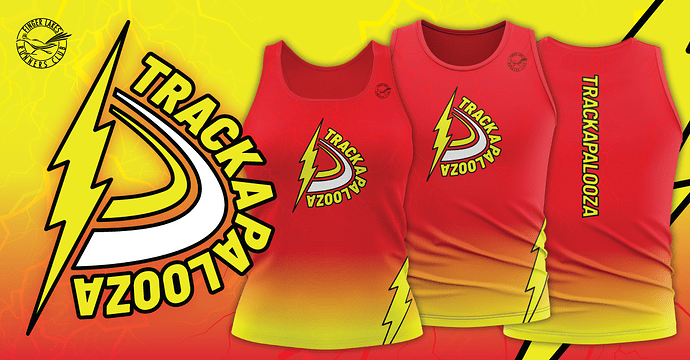 If you're not running or want to do only an event or two, please join our highly amiable volunteer crew and get your own brightly colored FLRC Volunteer T-shirt. To volunteer, sign up in Helper Helper.