As the weather warms up, we were reminded that wanted to reopen ordering for the racing singlets that members of the FLRC women's team wear in the PGXC series. (If you placed an order back in November, it will be in this batch.)
Although they're the team uniform for the PGXC races, everyone—men, women, and kids—is welcome to order one on Webscorer—they're comfortable, high-quality singlets that are appropriate for any race. No need to wear some ratty old T-shirt when you can look fast in a personalized singlet!
They're fully sublimated, so the design is part of the fabric, not a plasticky overlay on top. And since they're designed for team wear, you can put your name or town or whatever you want on the back. (We default to FINGER LAKES for the team singlets.) We'll bring sample sizes to the group runs (including this Sunday) for try-ons.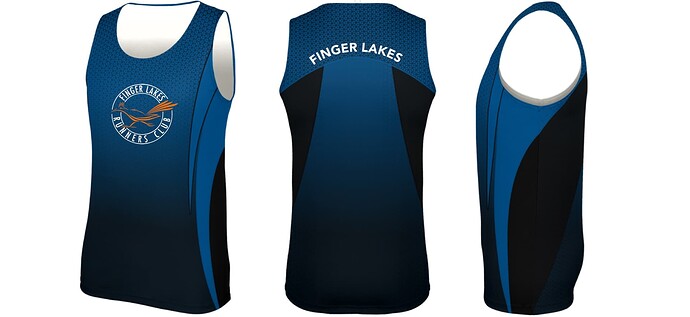 Singlets cost $40, and ordering will remain open until May 15th, with the order being placed the next day. Our last batch took two months to arrive, but we can hope that printing times have improved since last summer's slowdowns. Once they come in, we'll distribute them in person at FLRC races and group runs.
For an action shot, here's our top PGXC women's runner of last year, Kathleen Kaneley, showing how fast the singlet looks at the Taughannock race.