Congrats Kris!

@Challengers, in a day with the most glorious weather ever, we had three FLRC Challenge completions on Saturday! Congratulations first to Bob Walters (@Bwalters), who tackled Lick Brook & Treman FLT for his final course, presumably intersecting with Cayuga Trails 50 in the process. Bob's our oldest finisher so far at 63, but with Ruth Sproul (70) and Steve Ryan (71) both at nine courses, that won't last long.
Next up were the dynamic duo of Scott Dawson (@scottpdawson) and Amy Dawson (@amy-dawson), who logged a triple-effort day. First they ran Brookton Hill & Dale, which Scott still needed, then they hiked their home Taughannock course, and then they capped it off with Sweet 1600s on the Trumansburg track. That put Scott in the lead for Most Points for men AND Most Miles, with Amy only 0.3 miles behind him. And while there was a small amount of complaining about being tired, they managed to run today's group run on the East Hill Dryden Rail Trail as well.
Great work, you three!
And now we're at 18 finishers, @Challengers! Kudos to Steve Desmond (@steve-desmond), our leaderboard code wizard, for completing his final FLRC Challenge course for 2022 and claiming his medal. Like many others, he left Lick Brook & Treman FLT for last, and from the sounds of it, had a thoroughly enjoyable run, capped off with a chocolate bar. (Which may need to become Challenge tradition—finish your last course and scarf some good chocolate.)
We have seven people queued up with just one more course to run, so a nice weekend day could bring a lot of them home to their medals.
And when I check the Completions page today, @Challengers, I see that Brian Lazzaro (@brian-lazzaro) knocked off his final course this morning by running a sprightly Sweet 1600 in 5:42—congrats!
I fully expect that time to drop significantly when Brian runs it again in a track meet. His other times may drop as well, as he records more efforts with his kids, Heather (19) and Aidan (13—our youngest participant this year).
We have two more finishers, @Challengers. First, Josef Hauser (@jhauder7) finished on Saturday with a Sweet 1600 after taking a disciplined one-and-done strategy. And today, Teressa Naylor (@teressa.naylor) hammered a triple effort—Jim Schug Trail, Long Loomis, and Sweet 1600—to fill in the remaining gaps in her portfolio, which is bolstered by a whopping 18 efforts on Taughannock Rim & Falls.
Congratulations to both!
Congrats to recent completioners!
@Challengers, our latest finishers are dedicated running partners Anne Shakespeare (@anne-shakespeare) and Ruth Sproul (@ruth-sproul), who finished off their last course with a solid hike on the Lick Brook & Treman FLT course and a celebratory picnic afterward. Anne and Ruth have the distinction of being our oldest finishers so far, at 67 and 70—we should all aspire to such fitness at that age. Congratulations, you two!
Great work, Ruth and Anne!
@Challengers Check out 71-year-old Steve Ryan (@sryan004), who completed the Challenge on Saturday and took over the mantle of oldest finisher from @ruth-sproul! Plus, celebrating Father's Day with a Challenge completion today was Tristan Lambert (@Tristan_Lambert). Both Steve and Tristan saved Lick Brook & Treman FLT for last and were rewarded with cool temperatures for their long run. Way to go, guys—hope you found some chocolate at the end!
@Challengers, storming into some top spots on the leaderboard with her tenth course is Yvette de Boer (@ydeboer)—congrats, Yvette! This wasn't unexpected, given that Yvette holds the age-graded course record for the Monster Marathon, and she has now moved into second place in the Age Grade competition behind Caitlin Loehr and into third place in Most Points for women behind Liz Hartman and Caitlin. And at age 58, Yvette is doing great things for the @Fabulous-50s team, where she's the second-highest scorer. Now that Yvette has completed all the courses, the question is if she'll go back to add more miles or go for a few faster times.
We're up to 27 completions, @Challengers, with Jilene Demont cruising to a quick Brookton Hill & Dale this morning for her tenth course and Challenge medal—congrats, Jilene! That fine effort also catapulted her into second place in Most Points for women, where Liz Hartman retains her lead and Caitlin Loehr is now in third.
@Challengers Kudos today to Matt Clark (@mclark), who took advantage of the group run this morning to finish off Lick Brook & Treman FLT and claim his FLRC Challenge medal!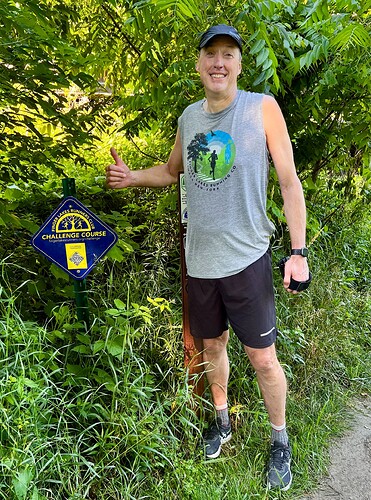 Plus, Jamie Loehr (@Jamie) and Caitlin Loehr (@caitlin-loehr) finished off all the courses for the SECOND time. No extra medals, but Caitlin's 2:21:10 for today put her in 7th place overall for Lick Brook & Treman FLT, 16 minutes ahead of the second-place woman, and 1st overall for that course when sorted by Age Grade.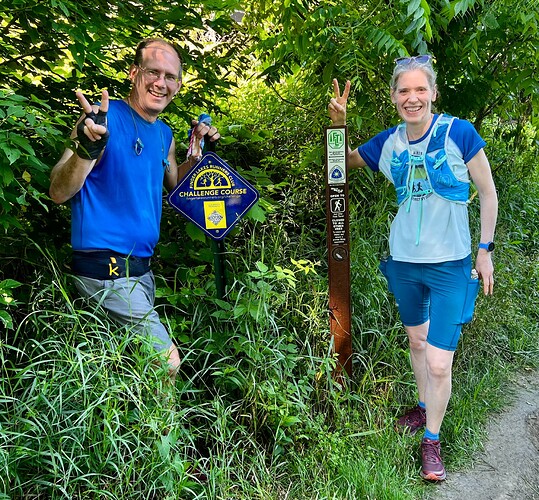 Oh dear, minor (major?) correction: turns out I only ran the Jim Schug trail once! I better get on that! Jamie, however, has run each course at least twice. Sorry for the confusion!