Route Swap: Invite a friend to run one of your favorite routes or you run theirs.
Looking for a friend to suggest their favorite route around Ithaca for me and Sam-dog to run. We will do pretty much anything up to 15 miles, trail or road, as long as it is dog friendly and lighter on car traffic. Hills and nice views are a bonus. Happy to offer one of our favorite routes, trail or road, catered to distance preferences, in return!
How about the canonical Triple Hump? That's one of my favorite long runs anywhere—I once ran the famous Magnolia Road in Boulder, and it didn't hold a candle to Triple Hump. You could start at the Ellis Hollow Nature Preserve parking lot on Ellis Hollow Creek Road, head toward Ithaca on Ellis Hollow Creek, turn right on Turkey Hill, turn right on Mount Pleasant, turn right on Midline, right on Ringwood, and right on Ellis Hollow Creek. Lots of hills, great views, and little traffic. About 9 miles like that; if you want to go further, just extend down Midline to either Hunt Rd. or Hurd Rd.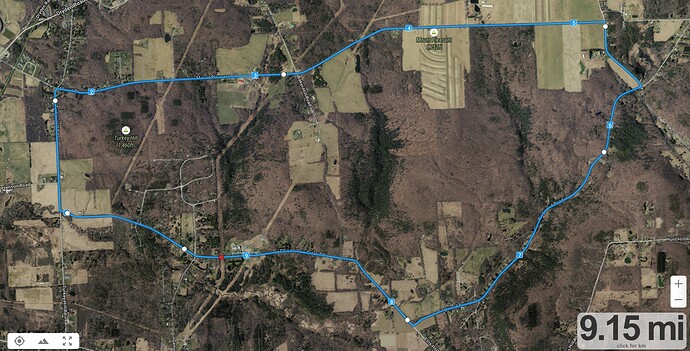 When I first started writing this, I couldn't remember the name of Magnolia Road, but a quick search in my email found this report I sent to the High Noon list back in 2011.
---
Sometimes we run for the sheer freedom of it, of flying along in the
scenery, enjoying the sights and sounds and companionship.
And then there are times when you just have to run a course into the
ground, by yourself, trampling it with every step so it knows who is
in charge.
My last Thursday's run of the famous Magnolia Road fell into the
latter category. For those that haven't heard of it, Magnolia Road
features heavily in Chris Lear's "Running with the Buffaloes" about
Adam Goucher and the 1998 University of Colorado cross-country team.
I'm not actually a huge fan of the book, since it feels as though the
coach is seriously overtraining the runners, and the author seldom
gives a glimpse into what the runners are like as people - I often
forgot who was who throughout, apart from Goucher.
I'd planned to run early to fit in with Tonya and Tristan's schedule
on our last full day of vacation, and the weather forecast for the
morning was reasonable, partly cloudy with a 30% chance of showers
from 7 AM on. But when I woke up, I realized that I'd miscalculated,
since it had rained during the night, and although the radar showed
the showers dissipating, the part of Magnolia Road you run isn't
paved.
But so what. It's not like I haven't finished many a trail run with
muddy shoes and legs, and how muddy can a dirt road get? Besides, it's
incredibly dry out in Boulder generally, so I figured that even if it
was a bit muddy in places, it would dry out quickly in the brilliant
mountain sunshine that had supplanted the pre-dawn showers.
So I ate some chia energy chunks from Greenstar, knocked back a
handful of chocolate-covered espresso beans, and washed it all down
with a few swigs of iskiate. (Hey, I don't run 15 miles very often,
never at nearly 9000 feet, and I needed all the energy I could get.) I
opted for shorts and a short-sleeved tech shirt with the long-sleeved
High Noon tech shirt on top, since it was in the high 30s, along with
cotton gloves. Thus equipped and flying the High Noon colors I drove
to the start of the run, which involved a hill so steep that the
switchbacks confused my GPS into thinking I was going the wrong way
repeatedly. We're talking some serious elevation gain here.
And then I set foot from the car and realized this was not going to be
one of those happy fun runs where you glide along enjoying the views.
This was going to be a sole-sucking slog through miles of mud.
The first mile is downhill, so that wasn't too bad, but going uphill -
and there's a lot of uphill on the first half of the out-and-back
course - was horrible. I tried running down the middle of the road. I
tried running in wheel tracks. I tried running on what passed for a
shoulder. I tried both sides of the road, since most of the traffic
was coming toward me. Nowhere could I find good footing, with my feet
sliding in whatever direction the angle of the road would take them.
And worse, the mud constantly stuck to the bottom of my shoes, turning
my 7-ounce Saucony Kinvaras into a parody of 1980s ankle weights.
After two miles, I considered turning back. I had what felt like a
pound of mud on the bottom of each foot, I had rocks in my shoes, and
I could feel the mud caking my lower legs. I could scrape the mud off
the bottom of my shoes by scuffing my feet, but that lasted only a few
strides. And although I could have stopped to clean the rocks out of
my shoes, there was no point since I'd just get more in right away.
And throughout all of this, I'm wandering left and right across the
road, desperately trying to find some solid footing while avoiding the
occasional truck or SUV.
But hey, I'd come a long way to do this, and it wasn't like there was
a single one of those Rocky Mountain wusses out there running Magnolia
Road that morning, so I decided to do Tim and Karen proud and run the
whole damn thing (since I could just imagine the mocking if I admitted
to being turned back by a little mud).
So I did it. I didn't go very fast, averaging only 8:21 per mile for
the first 7.5 miles, with the mud and the 700 feet of climb, but
bringing it down to 7:53 average on the overall downhill return as the
footing improved. I even managed a 6:36 mile on a long downhill from
mile 13 to 14.
And you know what? While I may have been swearing at the road and
telling the stiff headwind that I wasn't going to be cowed by a little
wisp of a breeze, I was having a pretty good time. It would have been
more fun to have been sharing it with a few High Nooners as well, but
as my kindergarten teacher sister-in-law says, you get what you get,
and you don't get upset.
In the end, I can see how Magnolia Road acquired its reputation. It's
long, has reasonably challenging hills on a soft surface, and while
the close-in scenery is mostly rural homes and farms among Rocky
Mountain scrub, the long views of the mountains are pretty impressive.
And although I never felt significant effects of the altitude, it's
probably good for training.
That said, I'll put Triple Hump up against Magnolia Road any day. We
may not have mountains decorating our background, but for a
challenging long run in memorable scenery - especially in the fall -
Triple Hump is hard to beat. And that's in no way to denigrate the
many other stunning roads and trails to run in the greater Ithaca
environs - Triple Hump just happens to be a personal favorite.
Put simply, Boulder is nice, but I'm happy to be back in Ithaca.
A few pictures:
Start of Magnolia Road: Twitpic
Post-run mud on my leg: http://twitpic.com/4q6uk5
Looking for a 5ish mile route -loop preferred, but out and back works too. Here is my planned route for my latest challenge (10 mile run, only done a 10k before)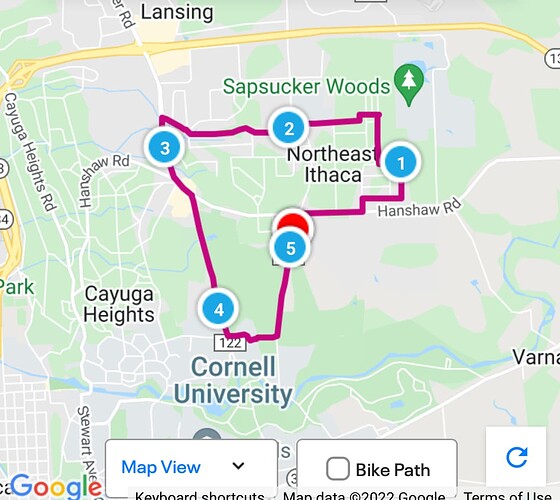 How about an East Hill Rec trail tour? It's just over 6 miles if you park at the East Hill mile on Game Farm, but you can cut it shorter by getting back onto the rec trail early or going out and back the same way instead of down Pine Tree. Nice little climb up part of Snyder Hill to keep it interesting.
@adamengst, I just realized that once we move to ABQ we'll be driving distance from Boulder! Sam and I will have to run Magnolia Road once we spend a few weeks at altitude.
Hello, offering a route here for a route swap
One of my favorite routes starting from downtown Ithaca is to run up to Giles St to the Mulholland Wildflower Preserve, run the wildflower preserve trail, then run up Columbia St, then downhill back downtown.
The route has nice hills and a mix of downtown energy + trail serenity.
I made a quick map to show the route - my apologies for the quality, I don't really use a mapping software for my runs, so I just punched this into Google Maps.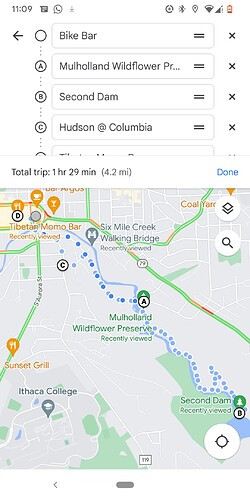 Went XC skiing with @julie19 and family this morning at Bear Swamp, where I haven't been all season - fast downhills with one crash and some good Burdock and Sam-dog snow time (:
An option to consider if you'd like some elevation gain is to go from the Commons up Hudson to Coddington. Take the IC pedestrian path and do a loop of IC (going from road behind athletic facility to business school and back to Coddington). There is an IC parking lot I love to stop by near the Coddington road entrance that ha sweeping views of Ithaca as well. Running back downtown to the Commons works out to about five miles.
@aaron.proujansky1 I was wondering if you were doing triple hump when we passed you on Ellis Hollow Creek Rd - Gerrit and I were on our way up to Ringwood to do the same route!