Ding dong, the snow has melted, and it's time to open our next two courses! Your hardworking race director has completed the necessary negotiations and installed the start/finish signs for the Cornell Botanic Gardens course in the F.R. Newman Arboretum and the Waterfront Trail course in Stewart Park. They should now be available in the Upcoming Races screen in the Webscorer app.
Cornell Botanic Gardens
The Cornell Botanic Gardens course is a lollipop of sorts, starting and finishing at the west entrance off Caldwell Road, and taking in the entirety of the Arboretum Road. You can find the sign on a post just inside the currently closed gate (you'll want to park at the Wildflower Gardens lot just north on Caldwell Road).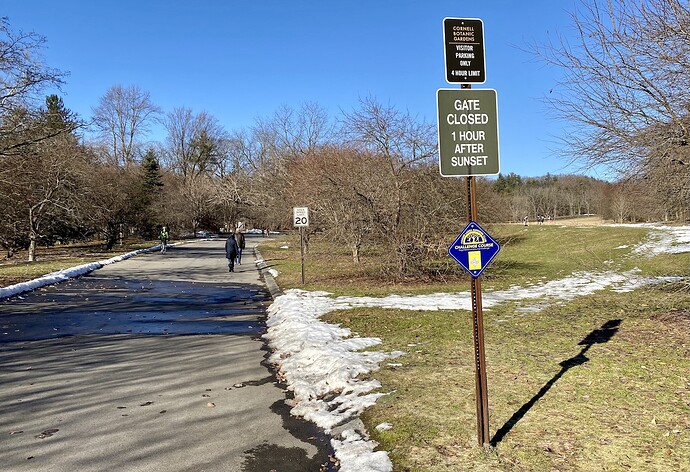 Waterfront Trail
The Waterfront Trail course starts inside Stewart Park (not at the Ithaca Youth Bureau as previously described) and runs along the Waterfront Trail around Stewart Park and across the bridges to the golf course. In another change, it now continues straight along Pier Road and curves around the Pro Shop instead of turning left toward the Farmers Market (there was too much construction). You'll run to the last blue pier on the left at 1.55 miles and then turn around—there is no marking on the ground, so pay attention to the piers on the shore of the inlet.