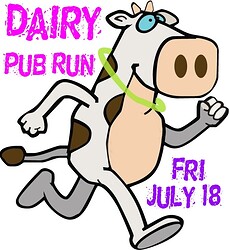 This Friday at 6pm, there will be a pub run in Downtown Ithaca, led by Sarah (@gumbywhale) and Dave (@Dave_K).
It will be Dairy themed, as June is National Dairy Month. Plan your outfits accordingly! One of our stops will involve ice cream instead of alcohol.
Here's the route:
6pm - meet at Dewitt Park to run about 2 miles downtown and on the waterfront trail
6:45pm - meet OUTSIDE the Finger Lakes Running Company store to gather any latecomers, then go over to Purity for ice cream
Rhinehouse
Somewhere near the Commons for more drinks and food
Outdoor seating is available at all of the stops.
If you are not fully vaccinated, you must wear a mask in all public settings, per CDC and NYS guidelines.
There is no registration for our pub runs. Just show up and be ready to have fun. Themed attire is strongly encouraged.
Anyone who is 21 or older is welcome!
Remember to bring ID and some CASH (as some bars are cash-only).
For those of you who have never taken part in the pub runs, we generally run about 2.5-4mi total between a few bars, with drink stops at each. Will we gather as a group at Dewitt Park, do our longest leg of the night's running, and then continue to our subsequent drink (and this month, ice cream) stops. Last stop will be for dinner and drinks.
Per usual with the pub runs, we have a NO RUNNER LEFT BEHIND policy.