@Challengers, we have our first FLRC 100K Ultra Challenge finisher for 2023! Congratulations to the indomitable Dennis Stadelman for completing all ten Challenge courses in well under 24 hours. This is Dennis's second finish of the Ultra Challenge—he was one of the inaugural crop of Ultra Challenge finishers in 2021. And at age 61, his efforts will bolster the @Super-60s-70s overall points.
His running time was 16:12:13, with an elapsed time of 20:13:42, setting the standard for subsequent Ultra Challenge finishers. Either Dennis is in better shape than two years ago or this set of courses is significantly easier, but this year he ran over 2 hours faster and with a total time that was almost 3 hours faster. An impressive achievement!
Perhaps because he hails from the Syracuse area, Dennis adopted an east-to-west strategy that served him well. He started with a Sweet 1600 in the dark at 3:30 AM, likely in Dryden, on the way to the start of the Dryden Lake Lollipop course. In the morning light, he hit Lime Hollow and Ludlowville Loop, which are quite close to one another as the crow flies, before coming into Ithaca for the Cornell Scenic Circuit, Ellis Hollow Creek Crossings, and Six Mile Creek courses. To combat the heat of the day and keep it in the light, he next went all the way out to the Finger Lakes National Forest for Blueberry Patch before returning to downtown Ithaca to double dip on Black Diamond Park to Park and Lakefront Loops 5K.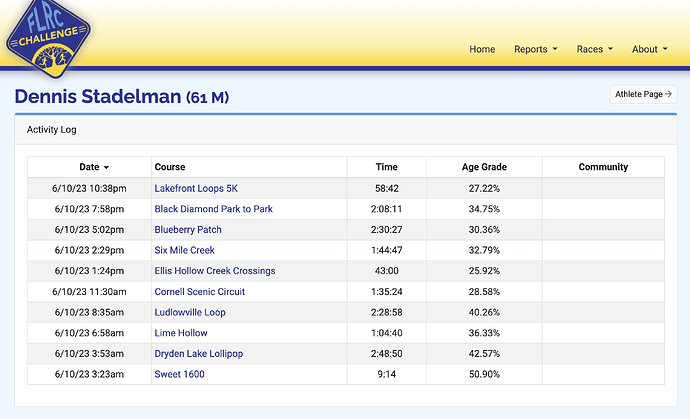 @dennis-s, we're dying to hear your recap of how it went! And get in touch so we can figure out when you can come get your completion sign—the FLRC picnic on August 24th would be ideal.