First, we have to talk about notification levels. For every forum/category, you can choose among five notification levels, and for every individual topic, you can choose among four (Watching First Post doesn't make sense for a topic). To set a notification level, click the bell icon in the upper-right of any category list or at the bottom of any topic and then click the desired notification level.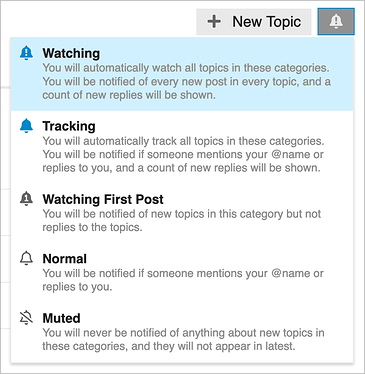 Some more detail on each of these:
Watching: Choose Watching for categories you want to follow closely. For each new post, you'll get a blue dot notification bubble on your avatar in the upper-right corner and an email message. In topic lists, blue dots will indicate new posts.
Tracking: With Tracking, your avatar gets a blue dot notification only if someone mentions your

@name

or replies to a post you've made. In topic lists, blue dots will indicate new posts. You won't receive email notifications. By default, when you reply to a post, you're automatically set to Tracking for that topic.
Watching First Post: If you choose Watching First Post, the system notifies you—both with a blue dot on your avatar and an email message—of new topics in the category, but not of new posts within a topic. Everyone is set to Watching First Post for the Announcements category and for the Important tag—it's how FLRC board members and race directors can ensure that everyone receives email about certain topics.
Normal: The default notification level is Normal, which is like Tracking in that you're notified with a blue dot on your avatar if anyone mentions your

@name

or replies to one of your posts. Unlike Tracking, Normal doesn't show blue dots for new posts in topic lists.
Muted: It's unlikely you'd need to use Muted unless you absolutely don't want to be notified of any new topics or posts. It's for forums with much higher traffic than this one.
Now you can see how you can get email for new posts. For each forum/category you want to follow via email, click the bell icon in the upper-right corner and choose Watching.
You can see all the categories you're Watching in your account's Notifications > Categories preferences. Click the X button next to any category name to remove it.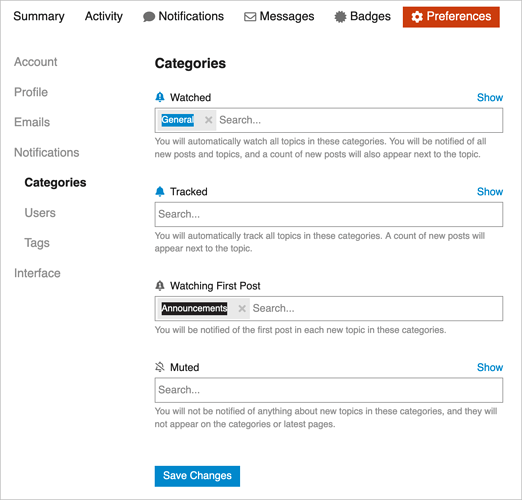 There is one other brute force method of getting email for all new posts, but we don't recommend it: mailing list mode. In your account's Emails preferences, click Enable Mailing List Mode at the bottom. You'll receive an email message for every post on the entire FLRC forum, which may become overwhelming if traffic increases.
The individual FAQs will keep coming, but if you're impatient, you can read the entire FLRC Forum FAQ in Google Docs.