We're pleased to announce that FLRC is sponsoring a pair of porta-potties on popular local trails in 2023. In partnership with Taughannock State Park, FLRC is funding a porta-potty on the Black Diamond Trail at the Kraft Road intersection. With the assistance of the Dryden Rail Trail Committee, FLRC is funding an accessible porta-potty at the Freeville end of the Dryden Rail Trail, near the Freeville Department of Public Works building. Both porta-potties will stay in place through the end of October.

We've set up an online fundraising campaign to defray the roughly $3,000 cost of maintaining these porta-potties. Scott Dawson of the FLRC Communication Team has designed "Throne Zone" posters with easily scanned QR codes to make it easy for those who appreciate the porta-potties to donate—or you can donate from this post. Thank you!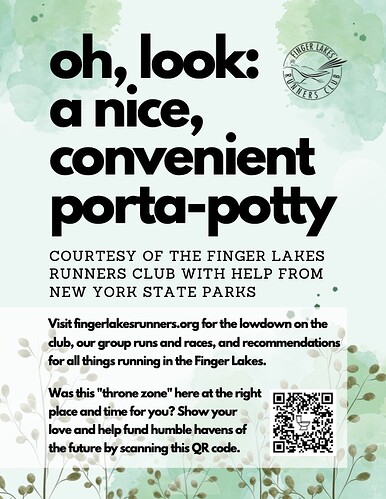 We've never done anything like this before, so we hope runners, hikers, bikers, and other trail users appreciate the amenities. Let us know what you think, and if it feels like a success, we'll consider it again in future years.