It is with deep regret that FLRC must announce the cancellation of the 2020 Skunk Cabbage Classic 10K and Half Marathon on April 5th, 2020 and the club's indoor track meet on March 29th, 2020, both of which take place at Cornell University. On March 10th, Cornell announced proactive measures to prevent the spread of COVID-19, including a ban on all events with over 100 people. The FLRC board explored the possibilities of postponing or moving these races, but neither proved feasible.
Skunk Cabbage Donations, Refunds, and Virtual Race
We understand (and share) your disappointment, particularly for those who have been training for Skunk for months and the hundreds of people who pre-registered. Although FLRC has a general no-refund policy for races, in this special circumstance, we would like to offer everyone who has already registered two choices:
Donate your registration and shirt fees to the club. You don't need to do anything to donate your registration and clothing fees (the shirts and beanies weren't printed). Fees from Skunk make up the lion's share of FLRC's revenues for the year. They allow us to maintain low registration fees for our races and to support other worthy running-related organizations, such as Girls on the Run, the Ithaca Youth Bureau, and Wilderness Search & Rescue.
Request a refund, minus fees. If you wish instead, we'll refund your entry and clothing fee, minus RunSignUp's registration and cancellation fees. To request a refund, please send an email message to fingerlakesrunners+skunk@gmail.com with your name and address. It may take a few weeks to process all the refunds.
Regardless of whether you donate your fees to FLRC or request a refund, we invite all pre-registered runners to participate in a virtual Skunk and receive a half-marathon finisher's medal! Run a 10K or half marathon on your own, wherever you want, any time on or before April 5th, 2020, and you can pick up your medal at the Finger Lakes Running Company once stores are allowed to reopen. If you can't make it to Ithaca, give us your address and we'll mail it to you once things settle down. (Medals available while supplies last.) This virtual race and medal giveaway is on the honor system, and we encourage you to post about your effort on Facebook, Instagram, or Twitter (tag #VirtualSkunk and @FLRCithaca), and consider joining FLRC's Strava group.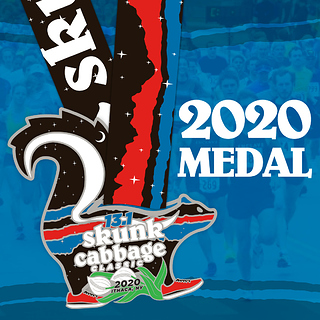 If you have any questions, please reply to this topic using the Reply button below.
Indoor Track Meet Canceled
Along with Skunk, we have to cancel our indoor track meet on March 29th. Since we don't collect fees at pre-registration, there is no need for a refund policy. We sincerely hope that the situation will improve sufficiently that our summer outdoor track meets will be able to take place. They aren't on the FLRC Web site yet because we're still determining where we'll be holding them—construction is forcing some changes.
Advice for Preventing the Spread of COVID-19
Check this post for our updated recommendations.
---
Again, our sincere apologies for having to cancel these races, and if you have any questions, just reply to this post.