The big news for the FLRC Challenge standings this week is the arrival of Nora McIver-Sheridan, who finished her tenth course and vaulted into the lead of the women's Most Points competition, ahead of Liz Hartman and Jilene Demont. But those standings could change, either with some faster times from Liz and Jilene, or once 2021 winner Margaret Frank starts running.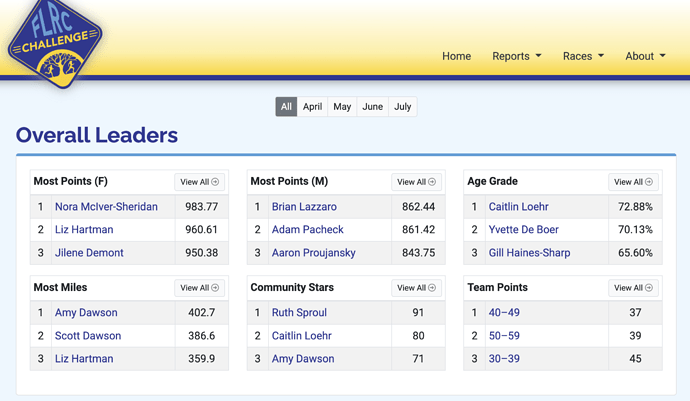 Five other @Challengers claimed their completion medals this week as well: Rachel Neugarten, Gretchen Gilbert, Bill Hartnett, Amalia Skilton, and Sarah Giesy. The first four took advantage of a pair of Saturday group runs on the Lick Brook & Treman FLT and the Brookton Hil & Dale courses, with Sarah finishing her last course on Long Loomis. Congrats, all!
If you still need Brookton Hill & Dale, or are just looking for some long-run company, join us on Sunday for a group run, meeting at the Brooktondale Community Center at 8:30. A few people who plan on being out longer are starting earlier to make it easier to finish with everyone else.
We also logged what I suspect will turn out to be our second-highest mileage week ever, given that we're at 878 miles well before the end of the day. That has pushed our total over 9700 miles, all but guaranteeing that we'll break 10,000 miles over the weekend. Four more courses joined the 1000-mile club this week: East Hill Dryden Rail Trail, Jim Schug Trail, Brookton Hill & Dale, and Lick Brook & Treman FLT.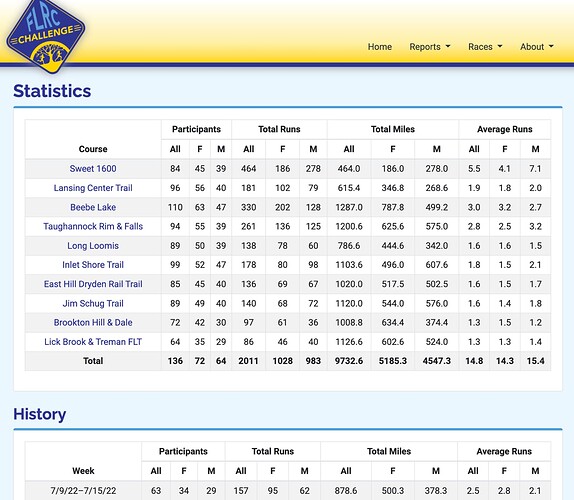 Some of those miles came from Amy Dawson and Scott Dawson, who have set a new high-water mark for vacation running by not just logging Sweet 1600 efforts on four separate tracks in Manhattan, but also walking between them for an 18-mile day (and their daughter told me they put in another 2 miles walking to and from dinner that night for 20 total). The funkiest track? This tiny two-lane one at the Asser Levy Recreation Complex.
Remember that the runner (or runners, for courses with turnaround signs) with the most efforts on each course wins that course's sign at the FLRC Challenge award ceremony at the August 25th annual picnic. Brookton Hill & Dale is probably already sewed up by Liz Hartman, but check out the pitched competitions in the rest: Sweet 1600, Lansing Center Trail, Beebe Lake, Taughannock Rim & Falls, Long Loomis, Inlet Shore Trail, East Hill Dryden Rail Trail, Jim Schug Trail, and Lick Brook & Treman FLT.
Finally, in the team competition, the @Fantastic-40s moved back ahead of the @Fabulous-50s on the strength of Roger Moseley's speedy effort on the Jim Schug Trail today. His 73.14% age-grade run bumped up the Fantastic-40s average age grade so it's now 0.19% higher than the Fabulous-50s average age grade on that course. This could become the tipping-point course!
Until next week, keep covering the ground!