What a week! Climate change made its real-world impact known with a line of severe thunderstorms that wreaked havoc across the area, downing trees and closing the Waterfront Trail and Forest Frolic courses. Please don't run there until we get the all-clear from the trail maintenance folks.
(In the Slightly Related department, the Finger Lakes Runners Club board last month endorsed House Resolution 763, a piece of federal legislation in the House of Representatives that aims to encourage market-driven efforts to reduce climate change. It's a small thing, and this particular bill may go nowhere, but we're extremely perturbed about the effects of climate change on running and our local environment.)
Those damaging thunderstorms and the heat that preceded them were the backdrop to another amazing accomplishment from one of our FLRC Challenge runners. The indomitable Pete Kresock took advantage of one of the longest days of the year to complete the FLRC 100K Ultra Challenge, running all ten courses in 12 hours and 20 minutes, completing Danby Down & Dirty during the storm and clambering over trees to complete Waterfront Trail. Don't miss the community back-and-forth during Pete's run and his race report. Who will next attempt the Ultra Challenge?
That effort was enough to thrust Pete into the lead in Most Miles, but it didn't last long before Heather Cobb nudged past him to maintain her lead, with Mickie Sanders-Jauquet holding onto third.
Signups keep rolling in, and a big leaderboard welcome this week goes to Ciera Carhart, Sten Anderson, Daniel Handal, and Thomas Murray, all of whom posted their first runs.
If you're looking for company on a South Hill Rec Way effort, check out the FLRC group run, organized by Heather Cobb. I'm sure it will be a great group, and Heather will be bringing bagels and cream cheese for everyone to enjoy afterward. The start times vary by pace, so check out the announcement.
The FLRC Challenge lawn signs arrived this afternoon, and they look fabulous. Alas, I can't make it to the group run tomorrow to hand them out, but I'll start distributing them as soon as I get a chance, including at some club events. Plus, if you're dying to get your sign up soon and are driving through the Ellis Hollow neighborhood on East Hill, you can swing by my house at 50 Hickory Road (less than a mile from the start of Pseudo Skunk Cabbage at the Ellis Hollow Community Center). Just text me first at 607-275-9557 when you think you'll come so I can make sure to be around or leave one out for you.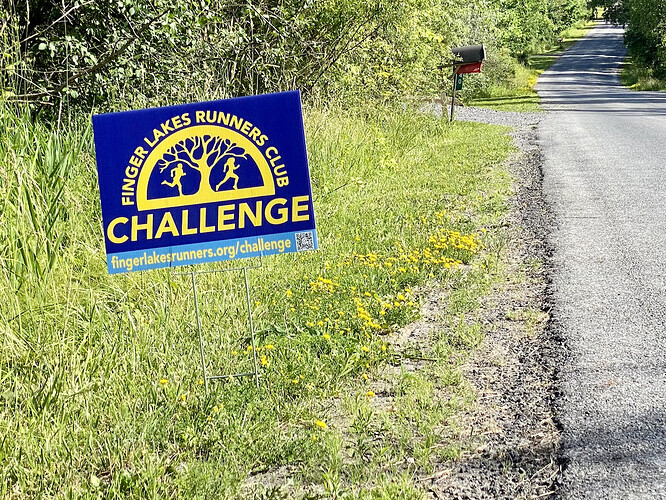 Keep those course reports and photos coming—they were a big help to figure out the state of our various courses after the storm. And until next week, keep Challenging yourself like Jamie Loehr, the first person to complete the FLRC Challenge, who told me today that he's now working toward running all the courses without walking and just finished Pseudo Skunk Cabbage without any walk breaks. There's always another goal, and we can all work toward them together as a community.