The weather just isn't giving us a break, so props to those who are still getting out and logging their FLRC Challenge miles before the heat and in between the torrential thunderstorms. With Stewart Park and the Waterfront Trail still closed, the Cornell Botanic Gardens course got a bunch of attention this week and became our fifth course to exceed 1000 miles.
Huge congratulations to 15-year-old Crosby Woods, who completed the FLRC Challenge today with a morning effort on the Pseudo Skunk Cabbage course. Despite being our youngest runner, Crosby has laid down some impressive times too, with first-place runs on both Danby Down & Dirty and Forest Frolic. All that has combined to catapult him into second place in Most Points behind Adam Pacheck. Third place now goes to Jean-Luc Jannink.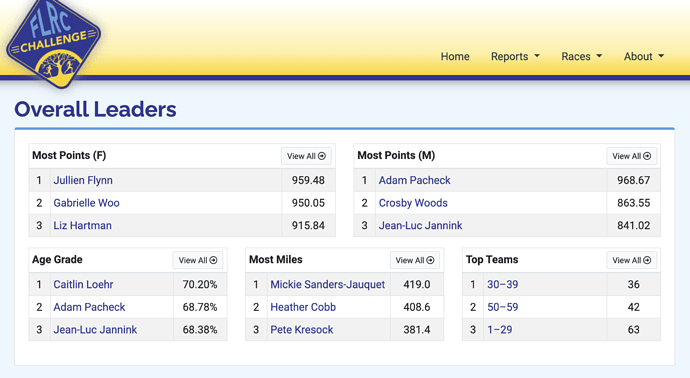 The most exciting competition remains Most Miles, where FLRC VP of Roads Mickie Sanders-Jauquet has worked her way into the lead thanks to a laser focus on logging miles. Mickie now has 419 miles to Heather Cobb's 408.6 miles, Pete Kresock's 381.4, and Bob Walters's 381.3. It's an interesting competition, given that Mickie and Bob are more marathoners relying on consistency, whereas Heather and Pete are ultramarathoners who can record 20- or 30-mile days while training for something longer.
We're not even halfway done with the FLRC Challenge yet—it will run through the end of the year—and we continue to get people signing up. We're up to 174, and I'd be tickled to hit 200, since that was my random estimate when first planning the Challenge. Regardless, a big leaderboard welcome this week to John Hummel and FLRC treasurer Mike Allinger, both sure to help the @Super-60s-70s team, and to Alexander Loane, who will be contributing to the @Terrific-20s-Teens team.
The team competition has settled down, with the @Thundering-30s still enjoying a comfortable lead on my @Fabulous-50s team. But once we get healthy, just wait! (Shakes fist angrily at the sky.)
Speaking of which, keep checking yourself for ticks after trail runs. I was just diagnosed with babesiosis, a more obscure tick-borne disease than Lyme. My main symptoms were fatigue, malaise, and chills—no real fever or anything else. If you have inexplicable symptoms that continue for more than a few days, don't mess around and get tested.
As I noted last week, the FLRC Challenge lawn signs are here, and they look fabulous. I hope to start distributing them this weekend. If you're dying to get your sign up soon and are driving through the Ellis Hollow neighborhood on East Hill, you can swing by my house at 50 Hickory Road (less than a mile from the start of Pseudo Skunk Cabbage at the Ellis Hollow Community Center). Just text me first at 607-275-9557 when you think you'll come so I can make sure to be around or leave one out for you.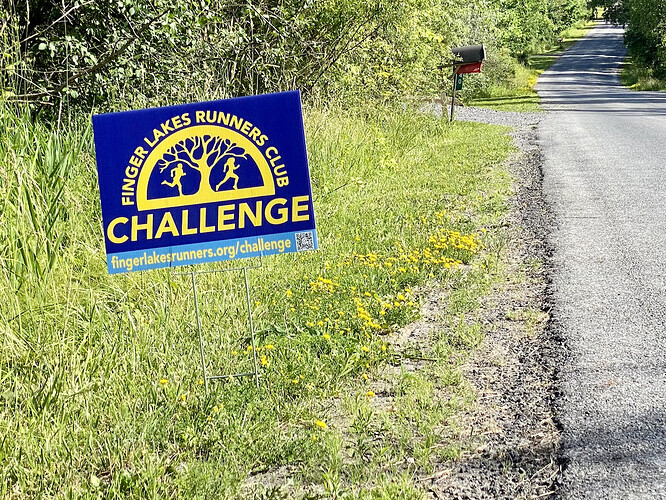 Until next week, keep challenging yourselves out there, and be sure to share stories and photos from your runs.