We may be 28 weeks into the FLRC Challenge, but we're still improving! Thanks to Steve Desmond for a couple of nice little additions to the leaderboard. We now have a Completions page accessible from the Reports menu, so it's easy to see who has finished all ten courses. We also added an Activity Log button to athlete pages, so you can see a list of all your runs (I hope yours is more populous than mine—anyone have an extra left leg I can use?). Another Activity Log button on each race page (use the Races menu) shows the log of who has run that course.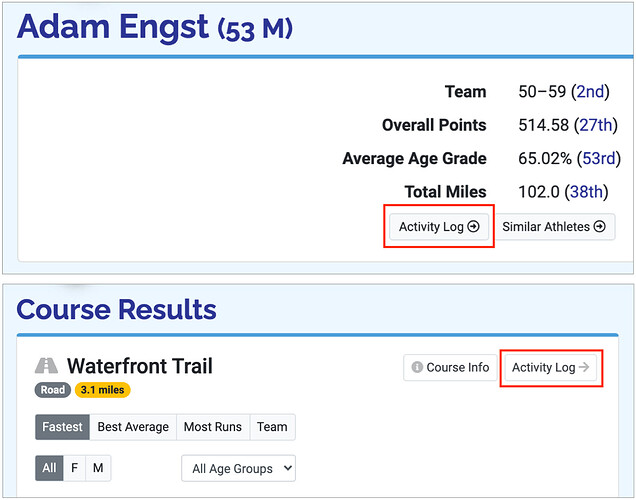 New people continue to join as well, with Rebeka Johnson logging her first run on the leaderboard—welcome! Rebeka started with a Pseudo Skunk Cabbage, so maybe she's going to work her way down in distance. And we're up to 182 total signups, with several people joining after I pointed out last week that there's still plenty of time to complete all ten courses by the end of the year.
The Most Miles competition remains interesting, with Bob Walters continuing to pull away. This week, he broke the 700-mile mark to stay well ahead of Pete Kresock in second with 580 miles. Mickie Sanders-Jauquet continues to hold onto third with 544 miles. And the next person to record a result will likely push us over 13,000 miles total!
The other area that's heating up is the team competition. The Thundering 30s are in the lead with 31 points, but the Fabulous 50s aren't far behind with 37 points. The two teams are neck-in-neck when it comes to Age Grade points, but the Thundering 30s have the edge in Most Runs, thanks to having five runners with 70+ runs: Heather Cobb, Amanda King, Pete Kresock, Bill Watson, and Aaron King. Although the top two Fabulous 50s runners, Karen Ingall and Mickie Sanders-Jaquet, have nearly as many as Heather and Amanda, the remaining members of their top five (Robert Swizdor, Caitlin Loehr, and Jamie Loehr) are all between 58 and 69 runs each.
For your moment of photo zen this week: Scott, Amy, and Xander Dawson in a bit of Challenge family togetherness on the South Hill Rec Way.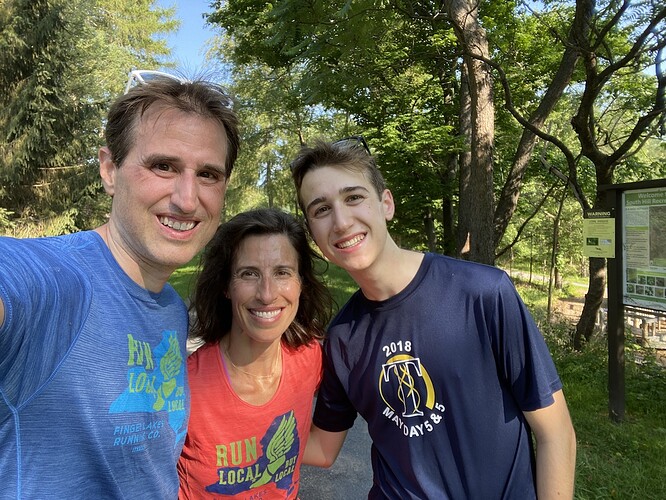 Until next week, keep challenging yourself and keep those photos coming!