FLRC Challenge completions continue to roll in, bringing us up to 33 total. Teenager Aeron Jauquet pushed through a long 13.1 miles to record Pseudo Skunk Cabbage as their tenth course. FLRC Diversity Committee chair Ana Riley took the opposite tack and knocked off the 1-mile East Hill Rec Way for her tenth course. Congratulations to both of them for serious perseverance! The floodgates could burst any week now, since we have ten runners queued up with nine course completions and another ten with eight completions.
Newcomers continue to join the Challenge as well, with Margaret Steffie running out and back on the Black Diamond Trail and Abigail Crites looping the Cornell Botanic Gardens to log their first leaderboard results. Welcome, and we're looking forward to seeing more first-run results from those of you who haven't yet recorded a run on the leaderboard.
It remains impossible to call the Most Miles competition. In the last week, Karen Ingall cruised past Pete Kresock to settle into second place behind Bob Walters, who continues to pad his lead. And with Pete running 100 miles at Virgil Crest tomorrow, he may not be logging many Challenge miles for a few more weeks, giving Heather Cobb and Mickie Sanders-Jaquet a chance to move up.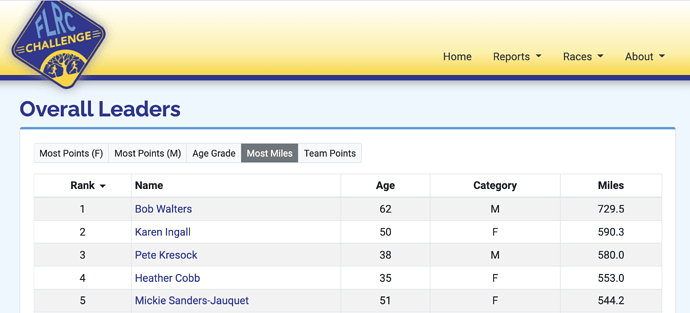 Good luck to everyone running this weekend's PGXC race and the Virgil Crest ultras! Looking forward, it may not be an FLRC Challenge course, but next weekend's Monster Marathon and Half Marathon is a great race. And October 2nd's in-person Danby Down & Dirty race will also count for Challenge points.