First off, don't miss Heather Cobb's group run on the Danby Down & Dirty course tomorrow at 8 AM. It's a great chance to pick up an FLRC Challenge effort and maybe finish off your personal Challenge. Even better, you can preview the course for the in-person running of the Danby Down & Dirty on October 2nd. You can run fast with everyone else in the race and then submit your time for the slightly shorter FLRC Challenge version of the course. (The FLRC Challenge course ends at the road, whereas the traditional course has you go across the road, up a short hill, and down another road into the finish.)
Second, congratulations to Adam Levine for completing all ten courses, with Forest Frolic as his final installment. He's our 36th finisher. And welcome to Matt Bishop, who signed up this week and recorded his first run on the Waterfront Trail. If I'm counting right, December 31st will mark our 45th week of the FLRC Challenge, so we have 14 more weeks. Plenty of time to run ten courses, but sign up soon!
Otherwise, it was a low mileage week for us, with only about 260 miles logged, but that was still enough to push our group achievement over 14,000 miles. Hitting 20,000 miles by the end of the year would take some work, but I'll be interested to see how close we can get. (For reference, the circumference of the planet is roughly 24,900 miles—that would be a heck of a relay race.)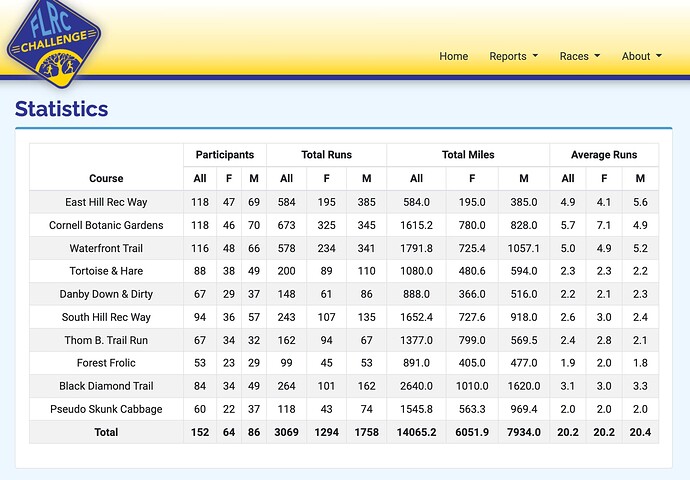 For the most part, the leaderboard remains unchanged from the last few weeks. Bob Walters continues to lead Most Miles over Karen Ingall, with wildcard Pete Kresock biding his time in third. Once he recovers from the 100-mile at Virgil Crest, he might also start logging some major mileage. I wouldn't count Heather Cobb out either—she's in fourth, just a few miles behind Pete, and she's still planning the perfect day to attempt the FLRC 100K Ultra Challenge, which would get her 60+ miles in a single day.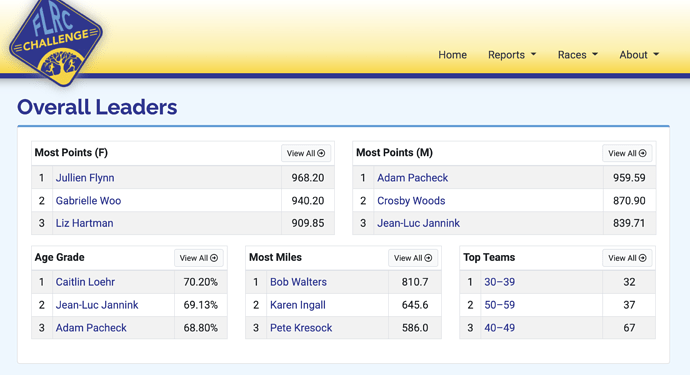 The team competition just got a little closer too, with the Fabulous 50s moving one point closer to the Thundering 30s. The two are tied for Age Grade points, but the younger set has the lead in Most Runs points.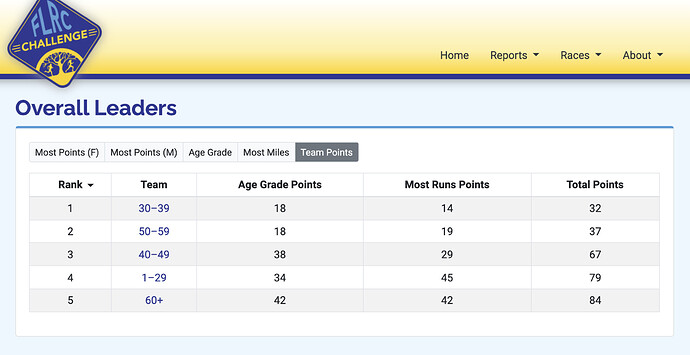 I hope to see some of you at the second PGXC cross country race on Sunday and many more at Danby Down & Dirty on October 2nd!
Until next week, enjoy the cooler fall temperatures!