The nice fall weather has goosed our weekly mileage again, and we ran over 475 miles this week compared to 280 last week. A chunk of that came from Heather Cobb, who logged enough miles to move past Pete Kresock into third place in Most Miles, behind Bob Walters and Karen Ingall. And that's while she's tapering for her first 50-miler! Heather also helped our collective mileage with her group run on the Danby course last weekend—I hope everyone enjoyed that.
So let's talk about the Danby Down & Dirty in-person race that's tomorrow at 9 AM. Since I'm a little late in getting this recap out and race director Pete Kresock is coming over at 8 PM to assign bibs, I've extended registration until then. So if you missed the previous 6 PM cutoff, you've got another two hours to make up your mind. It will be perfect running conditions, and a great opportunity to record a fast FLRC Challenge time. Just remember to record your time when you cross the road that marks the end of the Challenge course, just before you do the last little up-and-down to the finish line of the in-person race. And if Danby is the last course you need to complete the Challenge, what better way to get it in?
Right now, the Danby course leaders are Crosby Woods (51:09) and Margaret Frank (52:56, who's also third overall). Margaret's registered for the race and could lower her time, while second-place Adam Pacheck could use the in-person running to add Danby to his collection of fastest times. Mark Perry and Kristina Harrison-Savage are atop the Most Runs leaderboard for the Danby course, with 14 and 13 runs apiece, and Mark will be adding to that total tomorrow. Plus, Mark Perry and Liz Hartman might be able to use the race to move up in the Best Average standings, currently topped by Crosby Woods and Gabrielle Woo.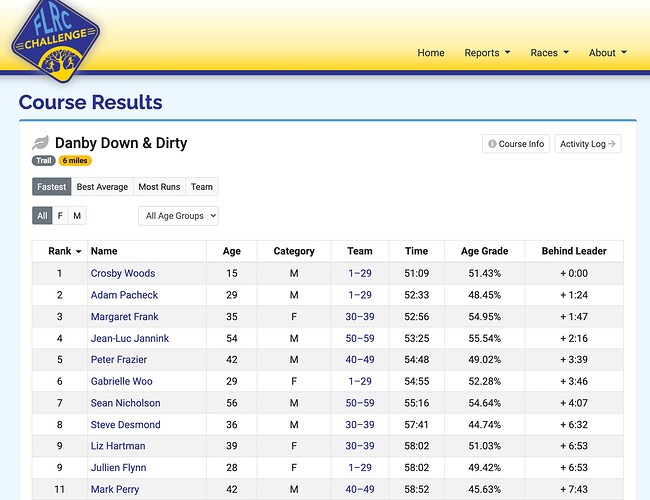 Tune in next week to see how the in-person race has affected the leaderboard, and I hope to see lots of you tomorrow at the finish line!