Last Saturday was the in-person Danby Down & Dirty race, and it was a glorious day for the FLRC Challenge, with 18 @Challengers adding it to their collections—19 if you include Kristina Harrison-Savage, who was volunteering instead of racing and swept the course at the end. She also ran it one more time this week to pull into a 15-run tie for Most Runs with Mark Perry. A special shoutout to Benedetta Carnaghi, for whom Danby was the last course she needed to complete the Challenge—congrats!
Although he was running impaired after an altercation with a tree in a trail half-marathon the previous weekend, Adam Pacheck (below left) still took fifth overall with a 43:30, dropping his previous fastest time by 9 minutes and taking over the men's Fastest top spot from Crosby Woods. Bill Watson (below right) ran a 49:56 to move into second overall in the race too, pushing Crosby down to third. But don't count Crosby out—once his Ithaca High School cross country season ends, he may be back to try for a few more fast times. Crosby retains his lead in Best Average, followed by Jean-Luc Jannink.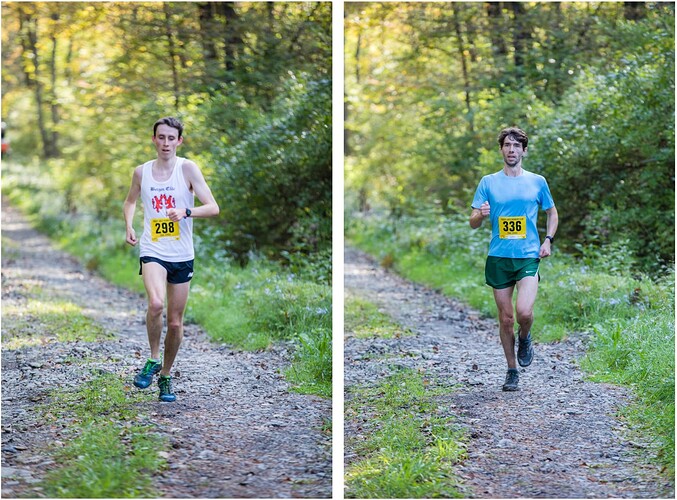 On the women's side for Fastest, despite a fast 57:30, Liz Hartman (below left) wasn't able to unseat the top two of Margaret Frank (below right, who ran the 20K) and Gabrielle Woo.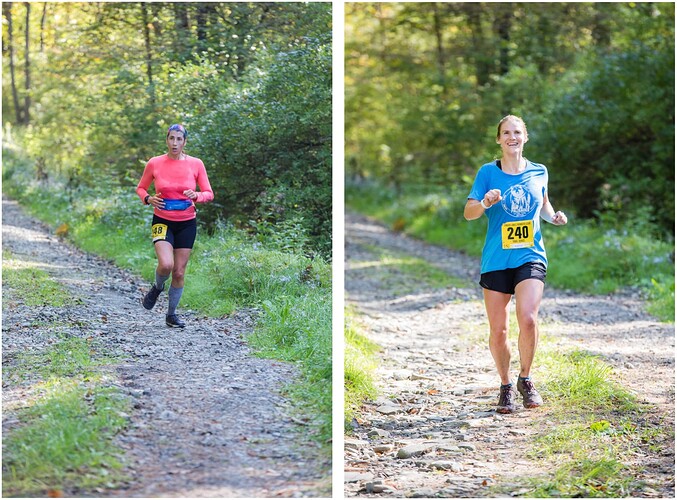 (Check out more fabulous race photos taken by photographer Jamie Love, including the bus that came through the finish line at one point.)
Adam's effort also made for the first overall leaderboard change we've seen in months in the Age Grade competition, which Caitlin Loehr had been leading. Adam's now in first with a 71.05%, just ahead of Caitlin's 70.20%, with Jean-Luc in third at 69.26%.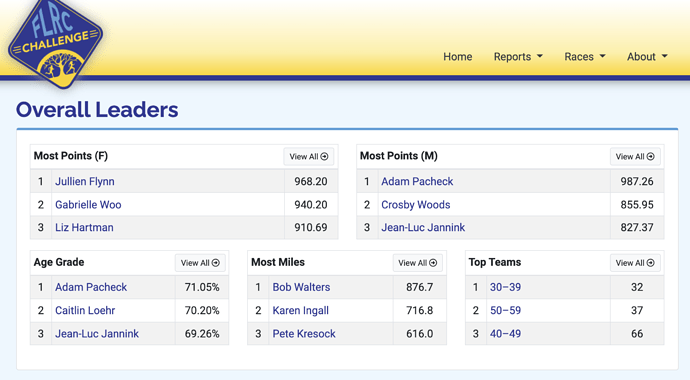 Finally, a big leaderboard welcome to Kuwanna Dyer-Pietras, who didn't know about the FLRC Challenge until she ran Danby Down & Dirty. Normally, you have to sign up for the Challenge before you run your first course, but I made an exception for her, and I'll do the same for anyone else who ran Danby and wants to sign up for the Challenge now. The more the merrier—we're up to 189 now.
Until next week, enjoy the fall weather and get those miles in so we can cruise past the cumulative 15,000-mile mark this weekend!