We're poised on the precipice of two milestones this week, with the South Hill Rec Way course slated to go over 2000 miles once two more people run it, and our overall mileage likely to exceed 17,000 miles on Saturday, especially given the predicted gorgeous weather that's supposed to continue well into next week.
It should beat last Saturday's Thom B. group run in the rain—check out these hardy if sodden souls! Special thanks to those who helped Keith Eggleston (in orange) when he fell and, as it turned out later, broke his ankle. I haven't quite decided what yet, but Something Will Be Done for anyone with just a course or two to go who suffers a catastrophic season-ending injury while running a Challenge course—Thom B would have been Keith's ninth course.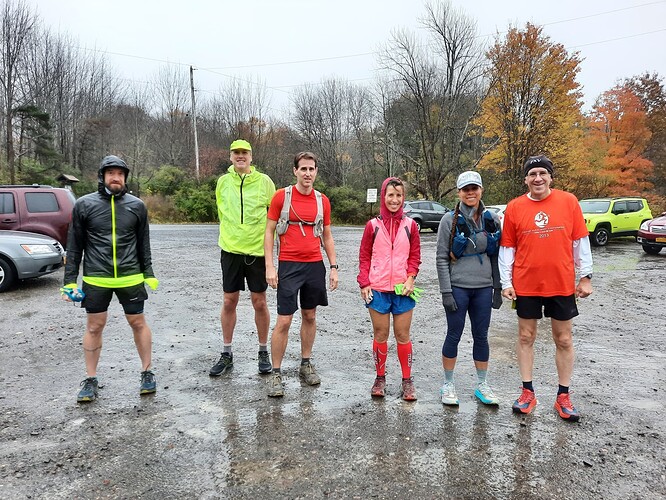 Little else has changed on the leaderboard since last week, though Pete Kresock has begun his effort to win the Most Miles competition. He logged over 60 miles last week to increase his total to 839 miles, behind second-place Karen Ingall (862 miles) and longtime leader Bob Walters (948 miles). Place your bets.
Last Tuesday brought three more FLRC Challenge completions with Zach Murray logging a Pseudo Skunk Cabbage for his final course and then running partners Ruth Sproul and Anne Shakespeare knocking off Forest Frolic together. Congratulations! At 69 and 66, Ruth and Anne are also our second and third oldest finishers behind 70-year-old Steve Ryan. Talk about role models—we should all be so lucky to be running like that when we're their age.
Our FLRC Challenge shirt order is in, but as with so many things this year, it's going to take a little longer than we'd like. Look for the shirts to arrive in early December—I'll figure out some group runs to add a social aspect to distribution.
That's it for this week, and while a bunch of us are busy running the PGXC championship race this weekend, I hope to see more Challenge completions while the weather holds in the coming week.