Four weeks to go, and we're in the home stretch! We've blown past 4000 total runs, and we should exceed 19,000 miles tomorrow. The question is if we can hit 20,000 miles for the full year. It's doable but not a slam dunk—we need to average slightly over 250 miles per week. It may depend on the weather since this week was under 300 miles, whereas the last three weeks were 522, 557, and 570 miles. If you've been dragging your feet on entering previously run efforts (don't make me name names), please get those runs entered—we need your miles!
Bumping up our numbers for the week was the indomitable Damian Clemons, who returned for a second shot at the FLRC 100K Ultra Challenge. This time he made sure he didn't have to go work the next day and was able to complete all ten courses in 16:27:37 running time and 23:04:47 elapsed time. That includes numerous clothing changes, meals, naps, and a trip to an all-night laundromat halfway through. That's not something you'll see in most ultras! Here he is after his first and last courses—more pictures in his report.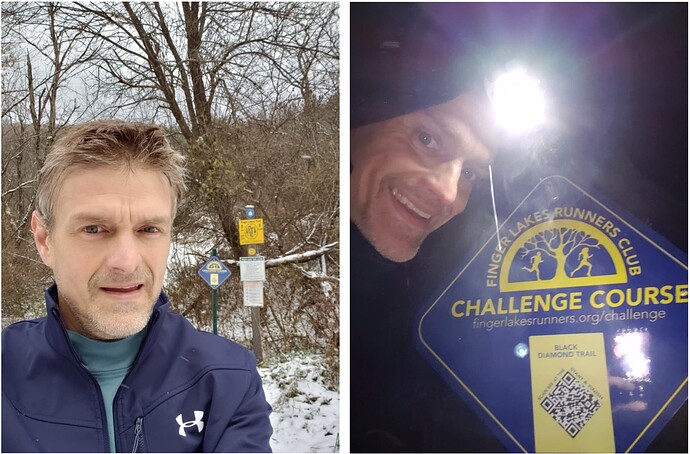 Part of the reason for the low week was that almost no one ran on December 1st at all. Luckily, Bill Watson snuck out for an easy East Hill Rec Way effort to keep our streak alive. Perhaps we'll get some more mileage from newcomer Francine Barchett, who logged her first Challenge effort on the leaderboard this week and then ran three courses today—welcome, Francine!
For those who need Forest Frolic to complete the Challenge, don't miss Heather Cobb's group run there tomorrow morning. We'll have one more official group run for the year, on December 18th, and that will be either Thom B. or Pseudo Skunk Cabbage, so let Heather know what you'd prefer—weather conditions permitting for Thom B., of course. I'm also looking for company on a fast hike on Pseudo Skunk next weekend—probably December 12th—because I don't dare run that far on an iffy calf and it's my last course.
FLRC Challenge shirts are in, as smilingly modeled below by Tonya Engst! I haven't quite worked out the best way to distribute them yet, though they'll probably end up at the running store and come to Winter Chill 5K races in January. That said, everyone who has ordered one is welcome to swing by my house at 50 Hickory Road in Ellis Hollow (perhaps on the way home from running Frolic, Thom B., or Pseudo Skunk. Just message me here, email me or text me first.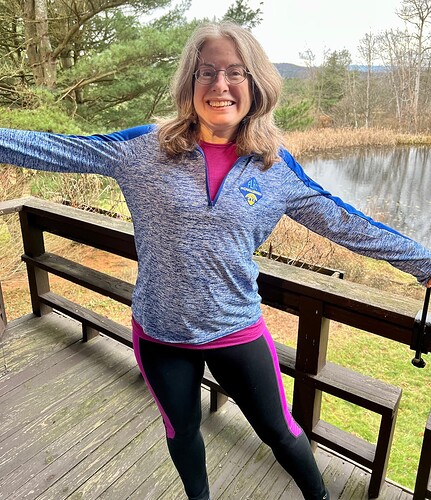 Finally, thanks to everyone who completed the FLRC Challenge survey, and it remains open if you haven't yet had a chance. We also have a more general survey running right now that's connected with our board election—three lucky folks filling that one out will win free entry to all FLRC races in 2022, including the FLRC Challenge but not Finger Lakes 50s.