The finish line is in sight! We have only one more week left in the 2021 FLRC Challenge, so if you have just a few courses to go, get them on your schedule by New Year's Eve. Verity Platt is our latest finisher, completing her tenth course yesterday—congratulations!
Quite a few of you are in striking distance with eight or nine completions, and even a few folks in the sevens could still complete. Those who need only one more course include Mik Kern, Aaron Hicks, Ryan Vooris, Sooyoung Vandemark, and Nathan Korson (who just caught up on his submissions today). The people who need two are Francine Barchett, Iris Packman, Sarah Ridenour, Margaret Steffie, Louise Debefve, Amanda Murray, Yinghua Wang, and Keith Eggleston (whose broken ankle while running Thom B qualifies him for an FLRC Challenge medal based on the race director's Discretionary Award for Catastrophic Season-Ending Injuries).
The team competition continues to ramp up. The @Thundering-30s retook the lead from the @Fabulous-50s on the strength of two Tortoise & Hare completions from Liz Hartman and Forest Frolic completions from Amanda King and Aaron King. And while I was writing this, a pair of fast East Hill Rec Way runs from Brian Donato and Peter Frazier pushed the @Fantastic-40s ahead of the @Fabulous-50s by a mere 1/100th of an Age Grade percent, saddling the @Fabulous-50s with another point. The @Fabulous-50s aren't giving up, though, and there are several approaches they could still take to win it all. Nothing is guaranteed, with the Age Grade and Most Runs competitions still in flux on a number of the courses, plus three other teams that could easily act as wildcards. Who needs pro sports for a nail-biter?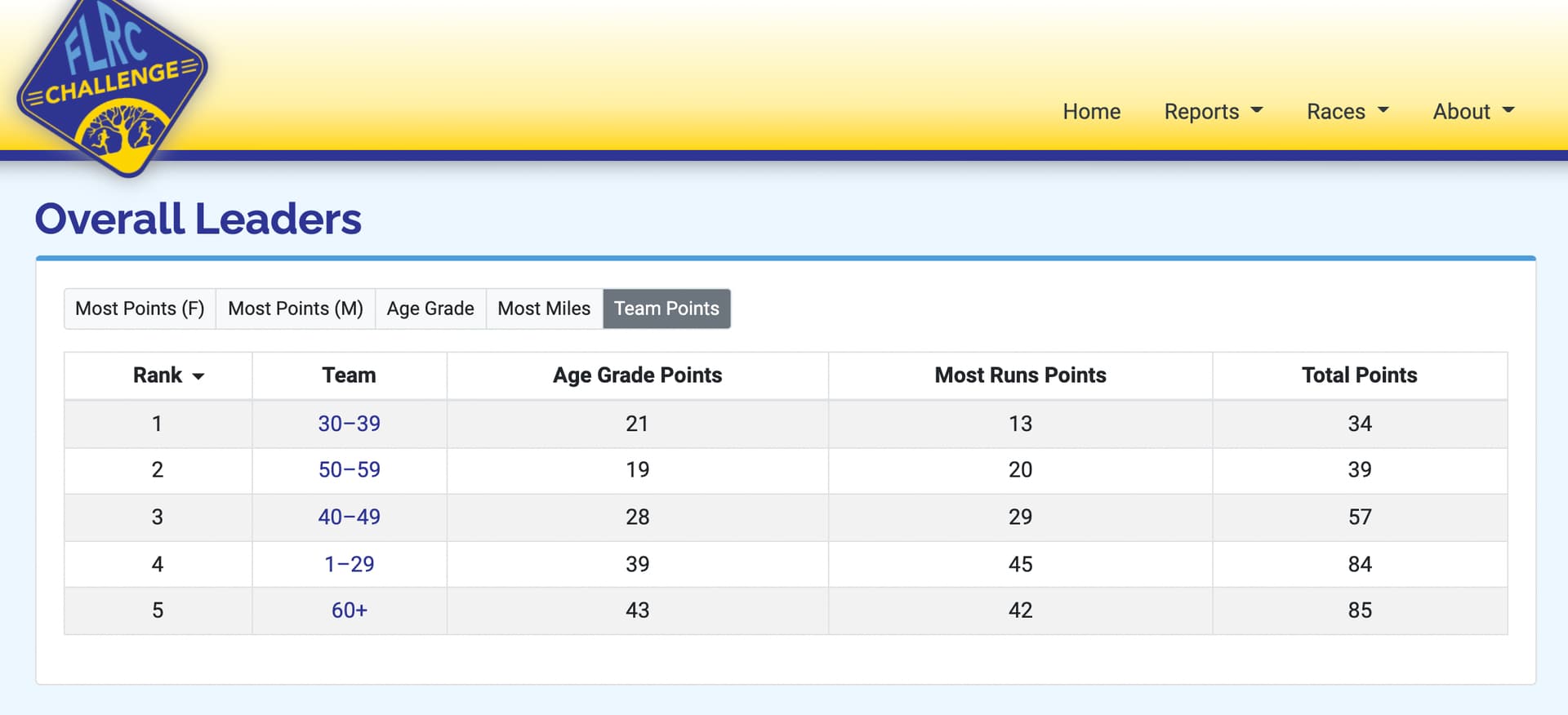 Anyone who wants to pick up their FLRC Challenge shirt (or buff) is welcome to contact me next week and stop by to pick it up—just message me here on the forum by clicking my name and then clicking the Message button. I also plan to bring the shirts to at least some of the Winter Chill 5Ks in January, and I encourage everyone to sign up for that. Outside of that, we're going to be setting up an FLRC pickup box at the running store so you can get things whenever it's convenient.
Finally, I wish all @2021-Challengers and the rest of our friends in the local running community a happy, healthy, and relaxing holiday season. Stay safe on the roads and trails, get vaccinated and boosted, and exercise masking and distancing caution when in public. Remember, it's the long run that counts.