First off, group runs are back, with an FLRC Challenge focus! Thanks to FLRC board member Heather Cobb for hosting this week's run on the Waterfront Trail course on Saturday at 8:30 AM. You must either be registered for the FLRC Challenge or sign a separate waiver.
Winter returned briefly this week, reducing overall weekly mileage a bit. Before the mercury dropped, we saw some stellar efforts. Kudos to Bob Swizdor and Sam Lagasse, who both made good on my dare from last week and put together three courses in a single run. Sam combined the East Hill Rec Way, Cornell Botanic Gardens, and Waterfront Trail in a 20-mile run, whereas Bob put together an even more impressive triple on the Black Diamond Trail, Waterfront Trail, and Cornell Botanic Gardens. Now that we've broken the triple barrier, will anyone be able to complete a quad? I'm sure you can see where this is going—watch the FLRC Challenge forum for an announcement soon.
The week wasn't just about distance. On the East Hill Rec Way this week, Liz Hartman raced to the top of the leaderboard with a 5:49 mile that bested Jullien Flynn's Day #1 best of 5:58. On the South Hill Rec Way, Aaron King laid down a 45:06 on the South Hill Rec Way today to secure a top ranking there and jump into the Most Points lead. Plus, late last week, Adam Pacheck set the mark at 17:30 for the Waterfront Trail, with Adam Schoene bursting onto the leaderboard with a 17:55 for second. Did you realize we already have five guys named "Adam" signed up?
Saturday also marks the kick-off of the FLRC Kids Challenge, which we're putting on in partnership with the Ithaca Youth Bureau. It's designed to help adults notch FLRC Challenge efforts while running with their kids, who work toward mileage milestones of 25, 50, 75, and 100 miles. 35 kids are signed up already. Kids Challenge registration is free, so sign your kids up today for some family running time.
A big leaderboard welcome to those posting their first efforts in the last week: Aaron Proujansky, Adam Schoene, Jeff Scott, Mickie Sanders-Jauquet, Nathon Korson, Sandra Thananart, Sooyoung Vandemark, and Steve Vanek. Way to go! If you haven't yet claimed your spot on the leaderboard, why not start this week?
Finally, a special shout-out to Scott and Amy Dawson, who cleverly used runs on the 13.1-mile Pseudo Skunk Cabbage course to complete the 2021 Virtual United Airlines NYC Half. Nice twofer! The moral of the story here is that the FLRC Challenge is compatible with lots of other virtual races and challenges, so feel free to make as much of your Challenge miles as you can.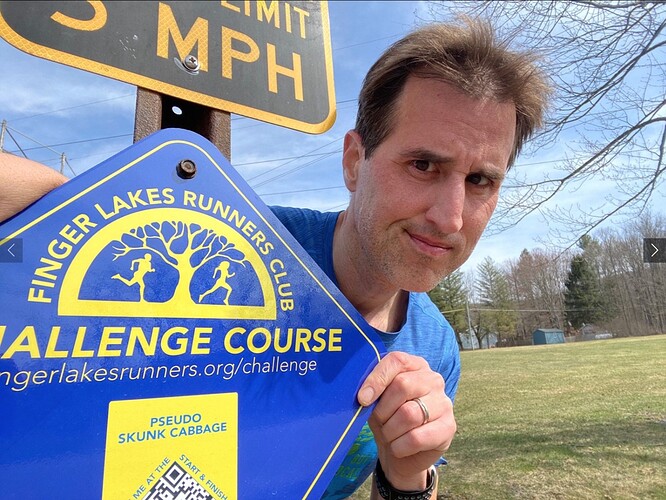 Until next week, keep those miles (and pictures) rolling in.