We're picking up steam in the FLRC Challenge now, with 19 people who have claimed their medal by finishing all ten courses. New finishers this week include Bob Walters (our oldest finisher so far at 63), Amy Dawson, Scott Dawson, Steve Desmond, and Brian Lazzaro. Congrats to all of them, and we'll see how many of the seven people who have just one course left to finish this weekend. Unless everyone will be off running the Gorges Half.
Brian's completion puts him solidly in the lead in Most Points for men, knocking Scott down to second and Aaron Proujansky to third. But Scott remains in the lead for Most Miles, just one track lap in front of his wife Amy, and an increasing distance ahead of Caitlin Loehr, who sits atop the Age Grade and Community Stars competitions as well. New to the top three spots this week is Jilene Demont, who moved into third in Most Points for women behind Liz Hartman and Caitlin.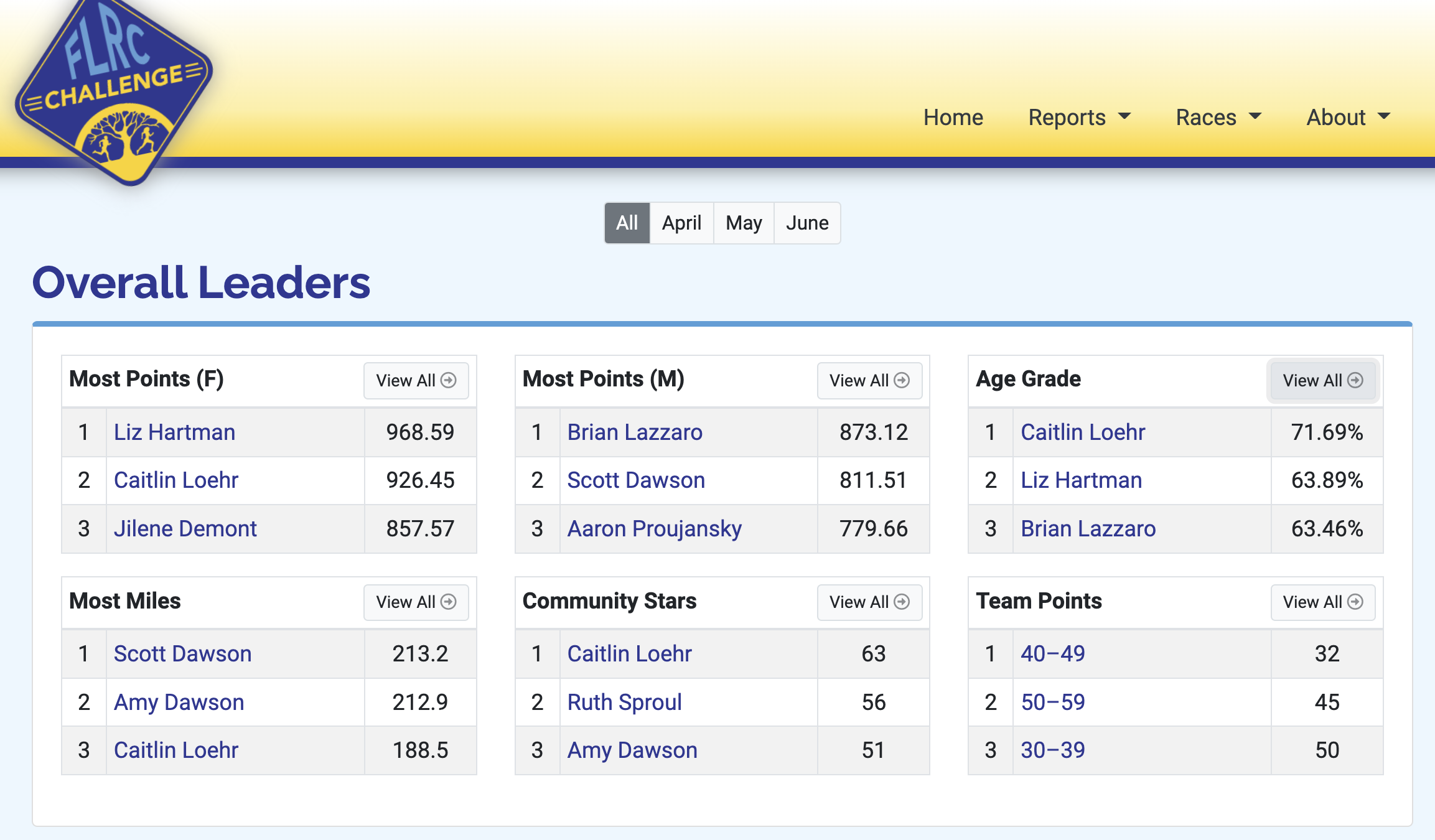 Overall, we're up to 152 people in this glorious game, 127 of whom have recorded at least one course. Now that the school years are winding down, we may be picking up more high school and collegiate runners—we'll have to see if they're game for competing with their elders when age grading is in play. This week's mileage was a little lower than last week, which just exceed 700 miles, but our average remains well over 700 per week, keeping us on track for that 13,000-mile goal.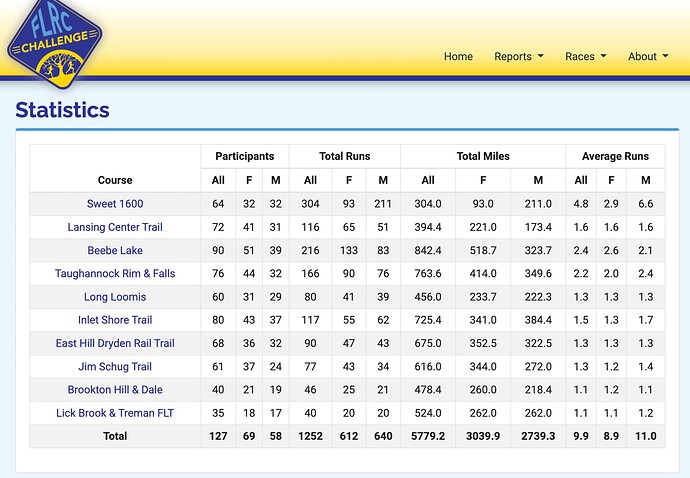 Our FLRC Challenge shirts are here, so if you ordered one, find me at a group run or other FLRC event in the near future to get it (you can also contact me separately if you need a direct pickup). They look and feel fabulous, and they're a great way to identify fellow @Challengers on the run or out on the town.
This weekend, I'll be at Heather Cobb's Saturday group run-through of the course for the Tortoise & Hare race (relive last year's Challenge course!) and at the FLRC Challenge group run at Lansing Center Trail on Sunday.
Sad trombone for Columbia Warren, whose Challenge season may be over after he suffered a broken ankle while running Cayuga Trails 50 last weekend (we'll have to find out if it happened on the Lick Brook & Treman FLT part of the course). On the upside of the disabled list, Jodi Clemons was running at Twilight on Wednesday after recovering from a broken toe, so we hope she'll get back on the Challenge courses soon.
Finally, Steve Desmond is modeling what I think should be a new Challenge tradition—the post-run chocolate bar when you finish your last course!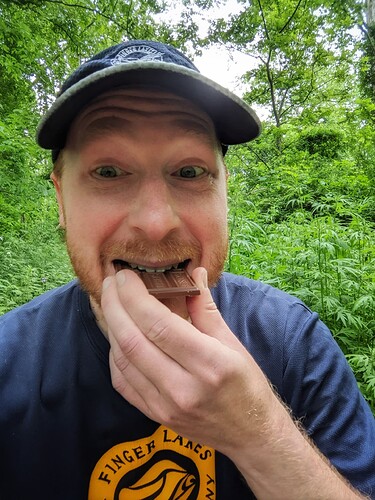 Until next week, do as the back of your FLRC Challenge shirt says and Cover the Ground!