FLRC Challenge Group Runs continue! To help introduce people to the FLRC Challenge and help those already in the Challenge with their efforts, we'll be moving them around to various FLRC Challenge courses.
August 21st's FLRC Challenge run will be on the Cornell Botanic Gardens course, hosted by Heather Cobb. This 2.4-mile course starts at the west entrance of the F.R. Newman Arboretum off Caldwell Road and takes in the entire Arboretum Road. The road is open to traffic much of the year, so be careful when cars approach. There's parking inside the Newman Arboretum. If it's full, you can park further north on Caldwell Road at the Wildflower Gardens parking lot or on Forest Home Drive near the north entrance to the Arboretum. We'll meet by the west entrance (see map below) at 8:30 AM and start running at 8:45 AM.
Everyone is welcome, regardless of age, ability, pace, or anything else. This is a free activity, neither club membership nor registration for the FLRC Challenge is required, but if you are not signed up for the FLRC Challenge, you must sign an online waiver . You only need to sign this waiver once for all 2021 group runs.
There will be post-run snacks, so please stick around after for socializing and eating a delicious breakfast. Please bring a cup for a beverage. (@Petorius, that means you!) (Snacks can also be made-to-go, so if you're someone who doesn't like to eat right after running, you are welcome to take it with you for later.)
Unless you're fully vaccinated (2 weeks post-second shot for Moderna/Pfizer and post-shot for J&J), please bring a mask for wearing whenever you're not running.
If you have questions, or if you might be interested in volunteering as a greeter/host for future runs, contact FLRC Group Run director Heather Cobb at cobb.heather.m@gmail.com.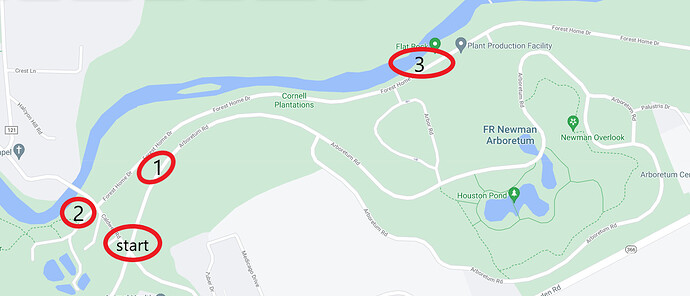 Key:
1: recommended parking
2: parking across the street
3: parking with a little warm up jog to the start
Resources: