@melissa-weiner, do you still need a ride tomorrow morning, and if so, from where? Perhaps @amalia or @Wesleyh96 could help? We're leaving on the early side, but can be a ride of last resort.
I will be okay for tomorrow. Thank you. I will try and make it but not 100 percent sure.
Another group run that couldn't be beat, though I wonder if I stumbled on (off?) the cliff that @Jamie fell down two weeks ago, since I tripped at some point, scraped my palm (gotta look into those running gloves he and Caitlin got), and as I rolled slightly to get up, found myself sliding on my back, head first, down a steep hill. Luckily, there was a small tree I was able to grab to stop myself and get up. That's the sort of position I only find myself in after particularly gnarly falls while cross-country skiing.
The picture below is only a portion of the people who showed up. @tonya and @KimJ headed out a little early, @Jami_Landry pulled up just after the picture, @Dave_K and @Charlie_Hale also started early so they could do the entire course, and @Jmckain85 and @Bwalters also intersected with us after starting at the bottom en route to the entire course. And then there was @Petorius, who was doing the course twice! Welcome to @Wesleyh96 and Sam on the left—it was their first FLRC group run.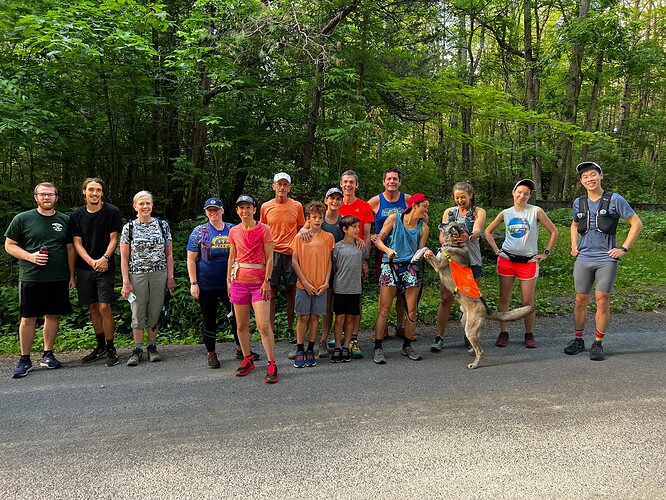 Alas, it was @gplwoo and Samdog's last group run before they move to Albuquerque later this week—here's wishing them all the best trail running out in the Southwest!
Afterward, a big group of us hung out on @veritymo and @rogmos's back deck, sharing Verity's scrumptious scones (fig and goat cheese, plus glazed apricot), along with the watermelon @heathercobb3 brought to share.
Two more weeks and we'll tackle the full Lick Brook & Treman FLT course as a group!