The next Saturday FLRC group run is this Saturday, 7/9, to tackle the 9.5-mile Treman Finger Lakes Trail side of the FLRC Challenge Lick Brook & Treman FLT half marathon course. @veritymo will be hosting us for post-run snacks (scones and watermelon!). Her house is about a quarter mile from the trail head, which you can park at if you don't mind the extra mileage. If parking at the trail head, meander back to Verity's after the run, 54 Woodard Road. The house is at the end of a long drive way shared with number 72 - look out for the grey parcel hutch at the top of the drive.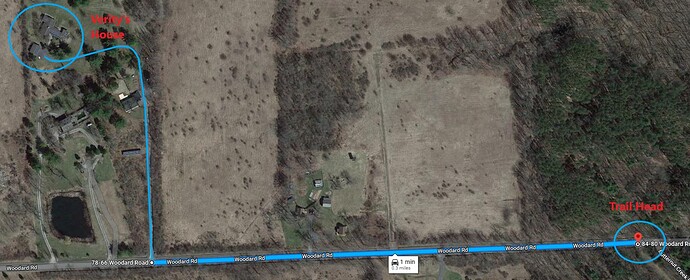 We will meet at 8:30am at the trail head on Woodard Road and begin running at 8:45am, taking the FLT north toward the Treman Event Center. Once you reach the turn around sign, head back the way you came, cross Woodard Road, and continue on the FLT through Treman State Park to the Finger Lakes Trail parking lot, where the start/finish sign is located. Stop for a moment to soak your feet in the brook, eat some chocolate, and then go back to Woodard Road. RunGo directions will work, even though you are not starting at the official start of the course.
If you're feeling spunky, you may also run the entire course. If you're not feeling up to the full 9.5, the shorter options are out and back north to the turn around sign, or out and back south to the parking lot.
Please vote in the poll below so others can get a sense of who else will be running/hiking their pace. We always have a wide range of participants, so you'll generally find someone to run/hike with. (Use your road pace.)
Pace Poll
Sub-8:00-minute pace
8:00-9:00-minute pace
9:00-10:00-minute pace
10:00-11:00-minute pace
11:00-12:00-minute pace
12:00-13:00-minute pace
13:00-minute+ pace
I will be hiking
Everyone is welcome, regardless of age, ability, pace, or anything else. This is a free activity; neither club membership nor registration for the FLRC Challenge is required. If you are not registered for the FLRC Challenge, you must sign the group run waiver. You only need to sign the waiver once for all 2022 group runs, so if you've already done so, you're all set! (Check Webscorer to verify that you signed.)
Let's be inclusive and fight climate change by carpooling. Vote if you need a ride or can give one, and post a reply with pickup possibilities.
I can give a ride
I need a ride
If you have questions or are interested in volunteering as a greeter/host for similar group runs, contact FLRC Group Run director Heather Cobb (cobb.heather.m@gmail.com). See you Saturday!
Subscribe to FLRC's Google Calendar so race dates, group runs, and other club events flow into your calendar. Import this ICS file for most calendar apps; subscribe to fingerlakesrunners@gmail.com if you use Google Calendar.